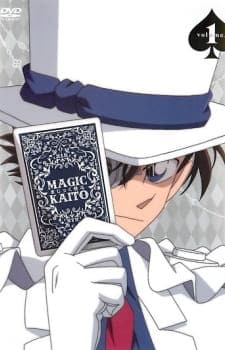 Aired: Apr 17, 2010 to Dec 29, 2012
Duration: 23 min. per ep.
Viewed: 84
Synonyms: Detective Conan: Kid the Phantom Thief
Magic is not real—everyone knows that. When performed by a true expert, however, magic possesses the ability to amaze and wonder its audience. Kaito Kuroba, son of world-famous stage magician Touichi Kuroba, is no stranger to this fact. Well-versed in the arts of deception and misdirection, Kaito frequently disrupts the lives of those around him with flashy tricks and pranks. But when Kaito accidentally stumbles upon a hidden passage in his home, he discovers a secret that may well have been the cause of his father's death eight years ago—the dove-white outfit of Kid the Phantom Thief. Wanting to find out more about his father, Kaito dons the outfit and searches for the Pandora Gem that is said to grant immortality. However, he is not the only one after the gem—the organization responsible for his father's death is also hot on his tail! Magic Kaito follows the rebirth of Kaitou Kid, phantom thief of the night. Utilizing his dummies, disguises, and signature card gun, Kaito sets out to steal the world's most precious jewels, uncovering the truth behind his father's death and the rumored Pandora Gem along the way. [Written by MAL Rewrite]
Nakamori, Ginzou

Main

Nakamori, Aoko

Main

Kuroba, Kaito

Main

Jii, Kounosuke

Supporting

Spider

Supporting

Jones, Ruby

Supporting

Koizumi, Akako

Supporting

Konno, Erika

Supporting

Kuroba, Chikage

Supporting

Kuroba, Touichi

Supporting

Lucifer

Supporting

Mitsuishi, Dan

Supporting

Momoi, Keiko

Supporting

Nightmare

Supporting

Paul

Supporting

Reporter

Supporting

Robert

Supporting

Selizabeth

Supporting

Snake

Supporting

Director

Supporting
Because we are making use of some free resources to reduce the main server load, the player can be opened on another domain or showed as a new tab (you have to allow pop-up if you're not using Chrome).