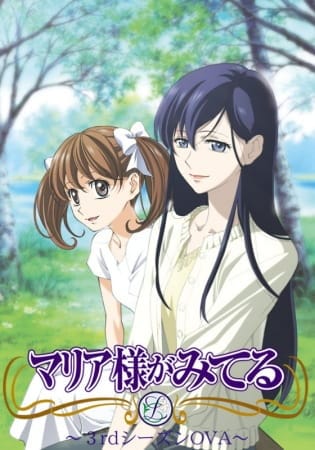 Aired: Dec 29, 2006 to Jul 25, 2007
Duration: 50 min. per ep.
Viewed: 15
Synonyms: ?Maria-sama ga Miteru Haru 2nd
Summer has arrived, and the students of Lillian Girls' Academy are on break! Yumi and Sachiko head out to the Ogasawara family's summer home, but what was supposed to be a relaxing vacation takes a turn for the worse when some of Sachiko's old acquaintances drop by for tea. These rich and snobby debutantes don't think Yumi is worthy of Sachiko's affection and they're out to make this summer one she'll regret. (Source: RightStuf)
Hasekura, Rei

Main

Hosokawa, Kanako

Main

Matsudaira, Touko

Main

Nijou, Noriko

Main

Ogasawara, Sachiko

Main

Shimazu, Yoshino

Main

Toudou, Shimako

Main

Fukuzawa, Yumi

Main

Ogasawara, Tooru

Supporting

Yamaguchi, Mami

Supporting

Saionji, Yukari

Supporting

Satou, Sei

Supporting

Sawamura, Kiyo

Supporting

Sawamura, Gensuke

Supporting

Takachi, Hidemi

Supporting

Takada, Magane

Supporting

Takeshima, Tsutako

Supporting

Yakushiji, Tomomitsu

Supporting

Yakushiji, Akimitsu

Supporting

Kyougoku, Kieko

Supporting
Because we are making use of some free resources to reduce the main server load, the player can be opened on another domain or showed as a new tab (you have to allow pop-up if you're not using Chrome).