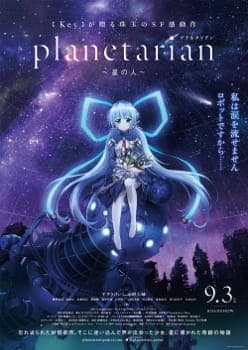 Aired: Sep 3, 2016
Duration: 1 hr. 57 min.
Viewed: 1
Synonyms: Planetarian: Hoshi no Hito
An adaptation of the visual-novel by Key, Planetarian: Hoshi no Hito combines the story of the original work with an expansion that extends the narrative with content from the Hoshi no Hito light-novel sequel. In the future after much of the world has been devastated by nuclear and biological warfare, a young scavenger or "Junker" exploring a quarantined and abandoned city comes across a service robot still faithfully awaiting customers in the rooftop planetarium of a department store. Against his pragmatic instincts he helps the robot repair the planetarium's projector: a decision which will change both their fates. (Source: ANN)
Because we are making use of some free resources to reduce the main server load, the player can be opened on another domain or showed as a new tab (you have to allow pop-up if you're not using Chrome).