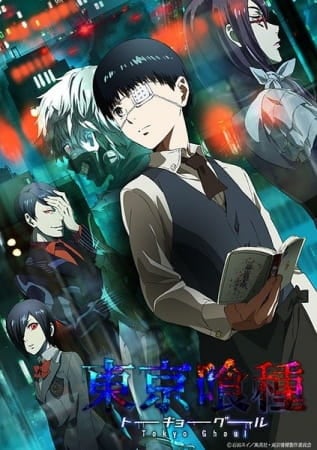 Aired: Jul 4, 2014 to Sep 19, 2014
Duration: 24 min. per ep.
Viewed: 707
Synonyms: Tokyo Ghoul
Tokyo has become a cruel and merciless city—a place where vicious creatures called "ghouls" exist alongside humans. The citizens of this once great metropolis live in constant fear of these bloodthirsty savages and their thirst for human flesh. However, the greatest threat these ghouls pose is their dangerous ability to masquerade as humans and blend in with society. Based on the best-selling supernatural horror manga by Sui Ishida, Tokyo Ghoul follows Ken Kaneki, a shy, bookish college student, who is instantly drawn to Rize Kamishiro, an avid reader like himself. However, Rize is not exactly who she seems, and this unfortunate meeting pushes Kaneki into the dark depths of the ghouls' inhuman world. In a twist of fate, Kaneki is saved by the enigmatic waitress Touka Kirishima, and thus begins his new, secret life as a half-ghoul/half-human who must find a way to integrate into both societies. [Written by MAL Rewrite]
Kirishima, Touka

Main

Kaneki, Ken

Main

Tokage, Goumasa

Supporting

Nagachika, Hideyoshi

Supporting

Yomo, Renji

Supporting

Uta

Supporting

Tsukiyama, Shuu

Supporting

Shinohara, Yukinori

Supporting

Sante

Supporting

Porpora, Donato

Supporting

Oomori, Yakumo

Supporting

Older Bin-Brother

Supporting

Ogura, Hisashi

Supporting

Noro

Supporting

Nishio, Nishiki

Supporting

Nishio, Elder Sister

Supporting

Nishino, Kimi

Supporting

Nico

Supporting

Nakajima, Yasunori

Supporting

Younger Bin-Brother

Supporting
Because we are making use of some free resources to reduce the main server load, the player can be opened on another domain or showed as a new tab (you have to allow pop-up if you're not using Chrome).