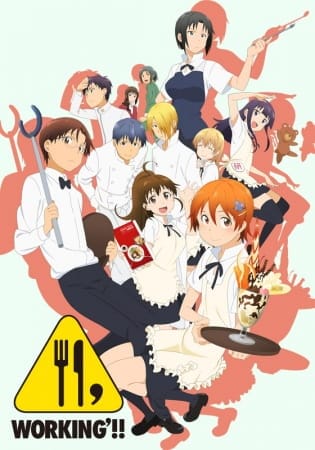 Aired: Oct 1, 2011 to Dec 24, 2011
Duration: 24 min. per ep.
Viewed: 4
Synonyms: Wagnaria!!2, Working!! 2, ワーキング'!!
The exciting antics of Wagnaria return as more ridiculous incidents occur, friendships are deepened, and new feelings are discovered. In addition to Souta Takanashi and his wacky co-workers, more eccentric personalities join the family restaurant: Haruna, Hyougo Otoo's missing wife, who has a habit of getting hopelessly lost through the sewer system; Kirio Yamada, Aoi's older brother, who is able to withstand Mahiru Inami's deadly punches; and twins Youhei and Mitsuki Mashiba, Kyouko Shirafuji's juniors who do not get along. Absurdity, romance, and hilarity are all on the menu for the Wagnaria family restaurant! [Written by MAL Rewrite]
Inami, Mahiru

Main

Satou, Jun

Main

Shirafuji, Kyouko

Main

Souma, Hiroomi

Main

Takanashi, Souta

Main

Taneshima, Popura

Main

Todoroki, Yachiyo

Main

Yamada, Aoi

Main

Otoo, Haruna

Supporting

Otoo, Hyougo

Supporting

Suzutani, Momoka

Supporting

Takanashi, Kazue

Supporting

Takanashi, Kozue

Supporting

Takanashi, Nazuna

Supporting

Takanashi, Izumi

Supporting

Yamada, Kirio

Supporting

CU Clerk

Supporting

Inami, Mother

Supporting

Kitahara, Ritsuko

Supporting

Lost Child

Supporting
Comming soon!!! But still, you're very handsome.
Please comment for requesting this anime.