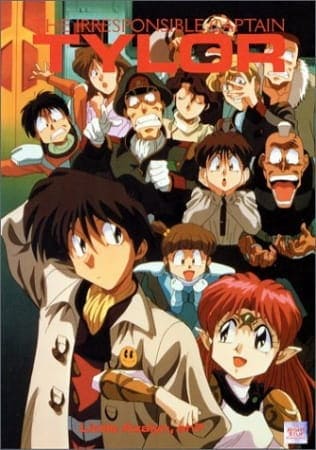 Aired: Jan 25, 1993 to Jul 19, 1993
Duration: 23 min. per ep.
Viewed: 11
Synonyms: The Irresponsible Captain Tylor, 無責任艦長タイラー
Justy Ueki Tylor is an average 20-year-old man: lazy, greedy, and a passionate womanizer. He plans to land an easy job with the United Planets Space Force that pays decently and is also far away from the rigorous combat raging throughout the galaxy. However, Tylor's dreams of living a simple life are brought to a sudden halt when he stumbles into a dangerous hostage situation. Through one strange mishap after another, Tylor miraculously manages to save the hostages and is awarded command of the decrepit space-cruiser Soyokaze! Now Tylor finds himself in charge of sending mad mercenaries, proud pilots, skeptical colleagues, and harsh commanders through the infinite expanse of the universe, all the while avoiding the looming threat of the Holy Raalgon Empire. What misadventures await the irresponsible Captain Tylor? [Written by MAL Rewrite]
Star, Yuriko

Main

Tylor, Justy Ueki

Main

Yamamoto, Makoto

Main

Andressen, Karl Björn

Supporting

Aragon

Supporting

Bunta

Supporting

Charly

Supporting

Cryburn, Mickey

Supporting

Dom, Ru Baraba

Supporting

Donan

Supporting

Fuji, Susumu

Supporting

Ghost

Supporting

Goza, Azalyn

Supporting

Hanner, Robert J.

Supporting

Hanner, Emi

Supporting

Hanner, Yumi

Supporting

Has, Shia

Supporting

Jason

Supporting

Katori, Harold

Supporting

Kim, Kyung Hwa

Supporting
Comming soon!!! But still, you're very handsome.
Please comment for requesting this anime.