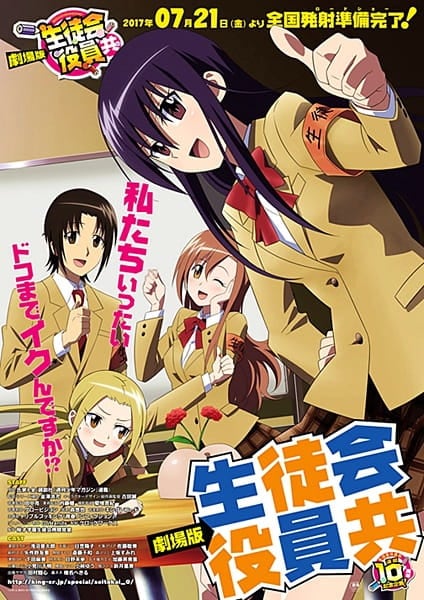 Aired: Jul 21, 2017
Duration: 1 hr.
Viewed: 16
Synonyms: Seitokai Yakuindomo Movie
Ousai Academy was originally an all-girls high school. Due to the declining birth rates in recent years, it was converted into a co-ed school. The first year male students would find themselves surrounded by girls and unfortunately, Tsuda Takatoshi is one of them. What's worse, he gets scolded on his first day by the student council president Shino Amakusa, which did not give a good first impression of him. Tsuda also meets the other student council members while getting scolded, and in the end, he gets late for class. As an apology for ruining his morning, Shino lets him join the student council for various of "reasons" and he accepts it, or rather, he's forced to accept. Thus begins his days as Tsuda soon realizes that he's the only normal student in Ousai Academy...
Amakusa, Shino

Main

Hagimura, Suzu

Main

Shichijou, Aria

Main

Tsuda, Takatoshi

Main

Dejima, Sayaka

Supporting

Hata, Ranko

Supporting

Igarashi, Kaede

Supporting

Mitsuba, Mutsumi

Supporting

Mori, Nozomi

Supporting

Todoroki, Nene

Supporting

Toki, Kaoru

Supporting

Tsuda, Kotomi

Supporting

Uomi, Chihiro

Supporting

Yokoshima, Naruko

Supporting
Because we are making use of some free resources to reduce the main server load, the player can be opened on another domain or showed as a new tab (you have to allow pop-up if you're not using Chrome).