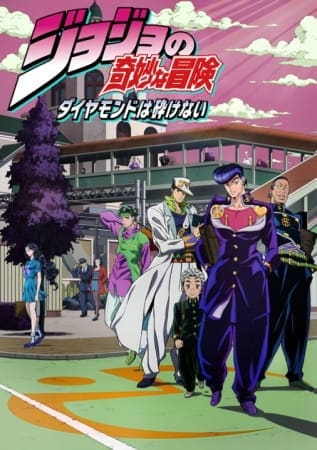 Aired: Apr 2, 2016 to Dec 24, 2016
Duration: 23 min. per ep.
Viewed: 5594
Synonyms: JoJo no Kimyou na Bouken: Diamond wa Kudakenai
The year is 1999. Morioh, a normally quiet and peaceful town, has recently become a hotbed of strange activity. Joutarou Kuujou, now a marine biologist, heads to the mysterious town to meet Jousuke Higashikata. While the two may seem like strangers at first, Jousuke is actually the illegitimate child of Joutarou's grandfather, Joseph Joestar. When they meet, Joutarou realizes that he may have more in common with Jousuke than just a blood relation. Along with the mild-mannered Kouichi Hirose and the boisterous Okuyasu Nijimura, the group dedicates themselves to investigating recent disappearances and other suspicious occurrences within Morioh. Aided by the power of Stands, the four men will encounter danger at every street corner, as it is up to them to unravel the town's secrets, before another occurs. [Written by MAL Rewrite]
Hirose, Kouichi

Main

Kira, Yoshikage

Main

Kishibe, Rohan

Main

Kuujou, Joutarou

Main

Nijimura, Okuyasu

Main

Higashikata, Jousuke

Main

Kobayashi, Tamami

Supporting

Yangu, Shigekiyo

Supporting

Mikitakas Mother

Supporting

Miyamoto, Terunosuke

Supporting

Narrator

Supporting

Nijimura, Keichou

Supporting

Nijimura, Father

Supporting

Otoishi, Akira

Supporting

Oyanagi, Ken

Supporting

Paramedic

Supporting

Speedwagon Foundation Agent

Supporting

Speedwagon Foundation Ship Captain

Supporting

Sugimoto, Reimi

Supporting

Tama

Supporting
Because we are making use of some free resources to reduce the main server load, the player can be opened on another domain or showed as a new tab (you have to allow pop-up if you're not using Chrome).