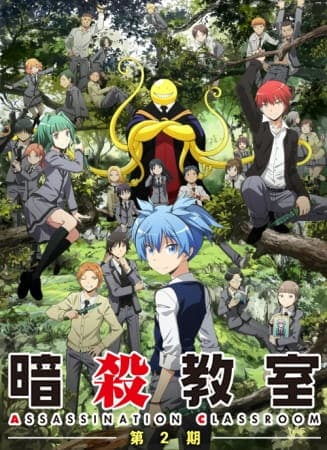 Aired: Jan 8, 2016 to Jul 1, 2016
Duration: 23 min. per ep.
Viewed: 201
Synonyms: Ansatsu Kyoushitsu (TV) 2nd Season
The students return as school is back in session for the second semester. Following their exploits on the island during summer vacation, Class 3-E continues to sharpen their blades with their sights set on their teacher, the slippery Koro-sensei. They have more to worry about than just their teacher, however, as enemy assassins, both old and new, are out for the increased bounty on the octopus' head. Moreover, their rivals in Class A, as well as Kunugigaoka Junior High's fearsome principal, stand to block Class E from achieving academic excellence. With all of these obstacles opposing them, the group must continue to work together in order to overcome their foes and accomplish their goal of successfully assassinating their teacher. [Written by MAL Rewrite]
Kayano, Kaede

Main

Koro-sensei

Main

Shiota, Nagisa

Main

Akabane, Karma

Main

Tanaka, Nobuta

Supporting

Mori

Supporting

Takebayashi, Koutarou

Supporting

Ritsu

Supporting

Red Eye

Supporting

Principal Matsukata

Supporting

Oono

Supporting

Okuda, Manami

Supporting

Okano, Hinata

Supporting

Okajima, Taiga

Supporting

Norita, Yuuji

Supporting

Nakamura, Rio

Supporting

Nagisa's Father

Supporting

Nagai

Supporting

Muramatsu, Takuya

Supporting

Yukimura, Aguri

Supporting
Because we are making use of some free resources to reduce the main server load, the player can be opened on another domain or showed as a new tab (you have to allow pop-up if you're not using Chrome).