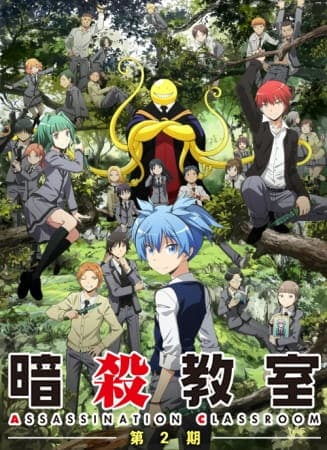 Aired: Jan 8, 2016 to Jul 1, 2016
Duration: 23 min. per ep.
Viewed: 46
Synonyms: Assassination Classroom Second Season, Ansatsu Kyoushitsu Season 2, Ansatsu Kyoushitsu Final Season, 暗殺教室 第2期
The students return as school is back in session for the second semester. Following their exploits on the island during summer vacation, Class 3-E continues to sharpen their blades with their sights set on their teacher, the slippery Koro-sensei. They have more to worry about than just their teacher, however, as enemy assassins, both old and new, are out for the increased bounty on the octopus' head. Moreover, their rivals in Class A, as well as Kunugigaoka Junior High's fearsome principal, stand to block Class E from achieving academic excellence. With all of these obstacles opposing them, the group must continue to work together in order to overcome their foes and accomplish their goal of successfully assassinating their teacher. [Written by MAL Rewrite]
Akabane, Karma

Main

Kayano, Kaede

Main

Koro-sensei

Main

Shiota, Nagisa

Main

Ikeda

Supporting

Isogai, Yuuma

Supporting

Itona's Father

Supporting

Jelavić, Irina

Supporting

Kanzaki, Yukiko

Supporting

Karasuma, Tadaomi

Supporting

Kataoka, Megu

Supporting

Kimura, Masayoshi

Supporting

Kiyashiki, Sakura

Supporting

Koyama, Natsuhiko

Supporting

Kunudon

Supporting

Kurahashi, Hinano

Supporting

Lovro

Supporting

Maehara, Hiroto

Supporting

Mimura, Kouki

Supporting

Mori

Supporting
Comming soon!!! But still, you're very handsome.
Please comment for requesting this anime.