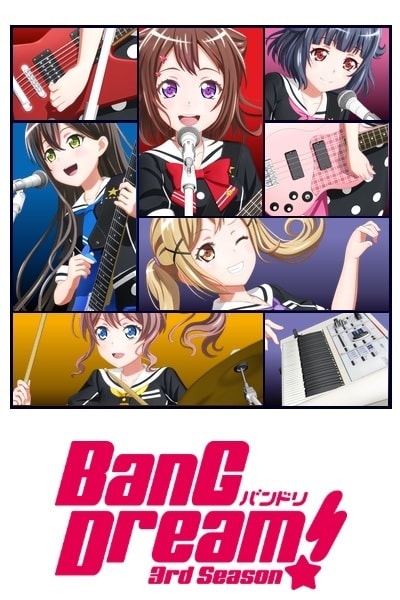 Aired: Jan 23, 2020 to ?
Duration: 23 min. per ep.
Viewed: 3
Synonyms: BanG Dream! 3rd Season
As the all-girl band Poppin'Party continues to rise in fame, they find a poster for an event at the legendary Nippon Budoukan. Now determined to participate in the "BanG Dream," Kasumi Toyama and the other members of Poppin'Party aim to reach new heights and prove their worth by performing on that renowned stage. Meanwhile, rival band RAISE A SUILEN dreams of changing the world with "the strongest music," but finds itself in dire straits without a guitarist. Though dozens of potential candidates audition for the role, band leader CHU² believes them to be amateurs and unsuitable for the band. However, there may be one guitarist that lives up to CHU²'s high standards. BanG Dream! 3rd Season features multiple all-girl bands, including Poppin'Party, Afterglow, Pastel*Palettes, Roselia, Hello Happy World!, and now RAISE A SUILEN, as they work to astound fans throughout Japan with their spectacular performances. As the BanG Dream competition draws near, the band members are prepared to captivate audiences with their heartfelt music! [Written by MAL Rewrite]
Hanazono, Tae

Main

Yamato, Maya

Main

Yamabuki, Saaya

Main

Wakamiya, Eve

Main

Ushigome, Rimi

Main

Uehara, Himari

Main

Udagawa, Tomoe

Main

Udagawa, Ako

Main

Tsurumaki, Kokoro

Main

Toyama, Kasumi

Main

Shirokane, Rinko

Main

Shirasagi, Chisato

Main

Seta, Kaoru

Main

Okusawa, Misaki

Main

Mitake, Ran

Main

Minato, Yukina

Main

Matsubara, Kanon

Main

Maruyama, Aya

Main

Kitazawa, Hagumi

Main

Imai, Lisa

Main
Because we are making use of some free resources to reduce the main server load, the player can be opened on another domain or showed as a new tab (you have to allow pop-up if you're not using Chrome).