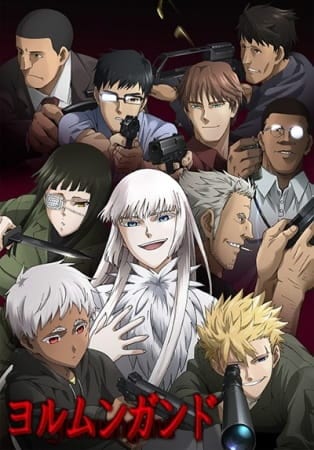 Aired: Apr 11, 2012 to Jun 27, 2012
Duration: 24 min. per ep.
Viewed: 32
Synonyms: Jormungand, ヨルムンガンド
Brought up in a conflict-ridden environment, child soldier Jonathan "Jonah" Mar hates weapons and those who deal them. But when Koko Hekmatyar, an international arms dealer, takes on Jonah as one of her bodyguards, he has little choice but to take up arms. Along with Koko's other bodyguards, composed mostly of former special-ops soldiers, Jonah is now tasked with protecting Koko and her overly idealistic goal of world peace from the countless dangers that come from her line of work. Jormungand follows Koko, Jonah, and the rest of crew as they travel the world selling weapons under the international shipping company HCLI. As Koko's work is illegal under international law, she is forced to constantly sidestep both local and international authorities while doing business with armies, private militaries, and militias. With the CIA always hot on her trail, and assassins around every corner, Jonah and the crew must guard Koko and her dream of world peace with their lives or die trying. [Written by MAL Rewrite]
Hekmatyar, Koko

Main

Mar, Jonathan

Main

Valmer, Sofia

Main

Brick, Lehm

Main

Malka

Supporting

Ugo

Supporting

Mao

Supporting

Mildo

Supporting

Mokoena

Supporting

Nelson, William

Supporting

Nikolaevich, Dragan

Supporting

Orchestra

Supporting

Pollack

Supporting

Riviere, Leon

Supporting

Schatzberg, Jerry

Supporting

Schokolade

Supporting

Socci, Renato

Supporting

Tojo, Akihiko

Supporting

Torohovsky, Amalia

Supporting

Malin

Supporting
Comming soon!!! But still, you're very handsome.
Please comment for requesting this anime.