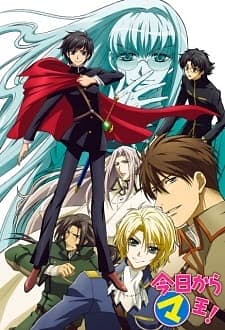 Aired: Apr 3, 2008 to Feb 19, 2009
Duration: 24 min. per ep.
Viewed: 9
Synonyms: Kyou Kara Maou! Dai San Series, Kyou Kara Maoh! Third Series, Kyou Kara Maoh! Season 3, Maruma Third Series, 今日からマ王!第3シリーズ
At the end of season 2. Yuuri defeats Shinou, but since Shinou had been defeated, Yuuri and Murata could no longer go to the Shin Makoku. However, because Yuuri had fought and defeated him, his powers had surpassed that of Shinou's, resulting in him being able to rely on his own power to return to Shin Makoku. After the ceremony at the age of 16, Yuuri slowly begins to discover that much has happened while he was away. The ten officials of the noble family have decided to make Wolfram the next Maou, but now that Yuuri has returned and taken back his role as Maou, complications arise when one noble disagrees with Yuuri returning to the throne. In addition, an ancient secret society that threatens the peace of both humans and Mazoku has risen, and a fight for the throne that now leaves the nobles wondering who is the legitimate Maou.
Murata, Ken

Main

Shibuya, Yuuri

Main

von Bielefeld, Wolfram

Main

von Christ, Gunter

Main

von Voltaire, Gwendal

Main

Weller, Conrad

Main

Beryes

Supporting

Dorcas

Supporting

Geneus

Supporting

Gisela

Supporting

Greta

Supporting

Griesela, Gegenhuber

Supporting

Gurrier, Josak

Supporting

Jean-Pierre, Antoine

Supporting

Keenan

Supporting

King Belar

Supporting

Markina, Alford

Supporting

Morgif, Mullem Desoive Eligh

Supporting

Nogisu

Supporting

Saralegui

Supporting
Comming soon!!! But still, you're very handsome.
Please comment for requesting this anime.