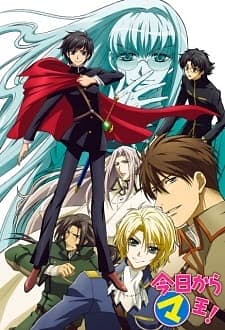 Aired: Apr 3, 2008 to Feb 19, 2009
Duration: 24 min. per ep.
Viewed: 34
Synonyms: Kyou Kara Maou!! 3rd Season
At the end of season 2. Yuuri defeats Shinou, but since Shinou had been defeated, Yuuri and Murata could no longer go to the Shin Makoku. However, because Yuuri had fought and defeated him, his powers had surpassed that of Shinou's, resulting in him being able to rely on his own power to return to Shin Makoku. After the ceremony at the age of 16, Yuuri slowly begins to discover that much has happened while he was away. The ten officials of the noble family have decided to make Wolfram the next Maou, but now that Yuuri has returned and taken back his role as Maou, complications arise when one noble disagrees with Yuuri returning to the throne. In addition, an ancient secret society that threatens the peace of both humans and Mazoku has risen, and a fight for the throne that now leaves the nobles wondering who is the legitimate Maou.
Shibuya, Yuuri

Main

von Bielefeld, Wolfram

Main

von Christ, Gunter

Main

von Voltaire, Gwendal

Main

Weller, Conrad

Main

Murata, Ken

Main

Shibuya, Miko

Supporting

Wincott, Delchias

Supporting

Shibuya, Shori

Supporting

Shibuya, Shoma

Supporting

Shinou

Supporting

Ulrike

Supporting

von Bielefeld, Waltorana

Supporting

von Grantz, Adelbert

Supporting

von Karbelnikoff, Densham

Supporting

von Karbelnikoff, Anissina

Supporting

von Spitzberg, Cecilie

Supporting

von Spitzberg, Stoffel

Supporting

von Wincott, Suzanna Julia

Supporting

Weller, DunHeely

Supporting
Because we are making use of some free resources to reduce the main server load, the player can be opened on another domain or showed as a new tab (you have to allow pop-up if you're not using Chrome).