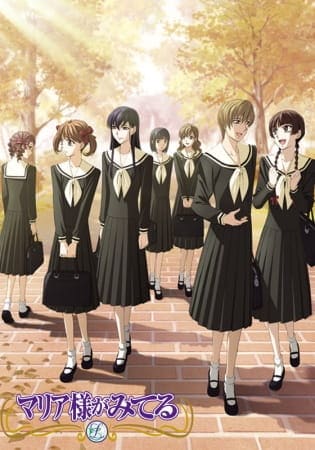 Aired: Jan 3, 2009 to Mar 28, 2009
Duration: 25 min. per ep.
Viewed: 8
Synonyms: Maria Watches Over Us Season 4, MariMite 4, La Vierge Marie Vous Regarde, The Virgin Mary is Watching Over You, マリア様がみてる〜4th〜
Yumi and the Yamayuri Council have found two new helpers in Kanako and Toko. Unfortunately, their assistance comes with tension, as neither girl is particularly fond of the other and both seem likely candidates to be Yumi's petite soeur. Will either be a good fit for Yumi? As the school year marches on, the work for the Yamayuri Council piles up, and pressure begins to mount for Yumi to make her final decision. (Source: RightStuf)
Fukuzawa, Yumi

Main

Hasekura, Rei

Main

Hosokawa, Kanako

Main

Matsudaira, Touko

Main

Nijou, Noriko

Main

Ogasawara, Sachiko

Main

Shimazu, Yoshino

Main

Toudou, Shimako

Main

Arima, Nana

Supporting

Arisugawa, Kintarou

Supporting

Fukuzawa, Yuuki

Supporting

Hosokawa, Yuuko

Supporting

Hosokawa

Supporting

Hosokawa, Chikako

Supporting

Kashiwagi, Suguru

Supporting

Mizuno, Youko

Supporting

Naitou, Shouko

Supporting

Satou, Sei

Supporting

Takachi, Hidemi

Supporting

Takagi, Tsukasa

Supporting
Comming soon!!! But still, you're very handsome.
Please comment for requesting this anime.