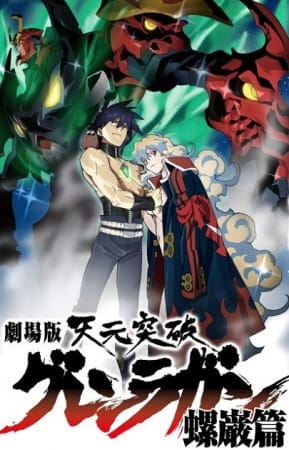 Aired: Apr 22, 2009
Duration: 2 hr. 5 min.
Viewed: 3
Synonyms: Gurren Lagann The Movie: The Lights in the Sky are Stars, Tengen Toppa Gurren Lagann Movie 2, 天元突破グレンラガン 螺巌篇
Humans have enjoyed their lavish, peaceful, and prosperous lives for seven years since the day the almighty Spiral King was defeated—the day they reclaimed their homeland, Earth. However, the boon of this lifestyle leaves them unprepared when an unknown, hostile threat arises due to the ever-growing human population. This calamity is the Anti-Spiral—a fearsome enemy with unparalleled power. As the Spiral King's prognosis postulating the destruction of "The Spiral's World" begins to come true, the pieces are in place, and Team Dai-Gurren is ready. With his late brother's hope to see a better future for mankind, Simon—along with Nia Teppelin and the rest of the team—is determined to overthrow the mighty Anti-Spiral in order to revive humanity's lost hope. [Written by MAL Rewrite]
Teppelin, Nia

Main

Simon

Main

Jokin, Makken

Supporting

Viral

Supporting

Kaito, Guinble

Supporting

Kamina

Supporting

Kanai, Zoushi

Supporting

Kuto, Cybela

Supporting

Littner, Dayakka

Supporting

Littner, Yoko

Supporting

Littner, Leeron

Supporting

Littner, Kiyoh

Supporting

Littner, Anne

Supporting

Littner, Tetsukan

Supporting

Lordgenome

Supporting

Old Coco

Supporting

Tsuuma

Supporting

Jokin, Leite

Supporting

Docker, Gabal

Supporting

Cortich, Attenborough

Supporting
Comming soon!!! But still, you're very handsome.
Please comment for requesting this anime.