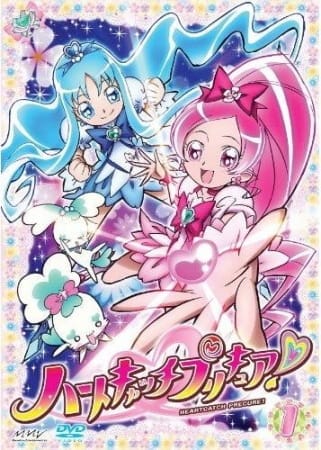 Aired: Feb 7, 2010 to Jan 30, 2011
Duration: 24 min. per ep.
Viewed: 14
Synonyms: Heartcatch Pretty Cure!, ハートキャッチプリキュア!
2nd year middle school student Tsubomi Hanasaki has just moved with her family to the town of Kibougahana to live with her grandma. She is shy and introverted, but is determined to start off her new school life at Myoudou Academy as confidently as possible. Lately she has been having the same mysterious dream again and again, of Cure Moonlight's defeat at the Great Heart Tree. She wonders what it all means. Then suddenly, two fairies from the dream appear to her, and before she knows it, she is transformed into the legendary Pretty Cure, Cure Blossom! Later joined by her high energy classmate and new friend Erika Kurumi as Cure Marine, the two girls vow work hard to protect everyone's Heart Flowers from the evil gang, The Desert Messengers.
Chypre

Main

Coffret

Main

Hanasaki, Tsubomi

Main

Kurumi, Erika

Main

Myoudouin, Itsuki

Main

Potpourri

Main

Tsukikage, Yuri

Main

Ban, Kenji

Supporting

Cobraja

Supporting

Cologne

Supporting

Coppe

Supporting

Dark Pretty Cure

Supporting

Dune

Supporting

Hanasaki, Kaoruko

Supporting

Ikeda, Aya

Supporting

Kaga, Yasuhiko

Supporting

Kudou, Mayu

Supporting

Kumojacky

Supporting

Kurumi, Momoka

Supporting

Mizushima, Aya

Supporting
Comming soon!!! But still, you're very handsome.
Please comment for requesting this anime.