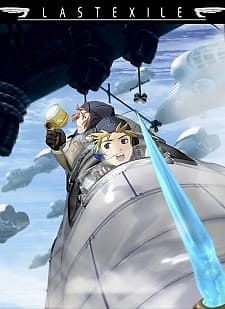 Aired: Apr 8, 2003 to Sep 30, 2003
Duration: 24 min. per ep.
Viewed: 23
Synonyms: Last Exile
In the world of Prester, flight is the dominant mode of transportation, made possible by Claudia Fluid: a liquidized form of the crystals that are produced on the planet. An organization known solely as "the Guild" has absolute authority over the skies, with a monopoly on the engines that make use of this fluid. Moreover, as ecological disasters destabilize the warring countries of Anatoray and Disith, the Guild also arbitrates in the disputes between the two. Caught in the middle of the conflict are Sky Couriers, piloting small, two-person vanships that fly freely through the sky. Last Exile follows the adventures of two teenagers who dream of surpassing their parents: Claus Valca, son of a famous vanship pilot, and Lavie Head, Claus' best friend and navigator. Their job as couriers entails passing through an air current called the Grand Stream that separates the hostile nations, which even standard airships struggle to survive. However, when they take on a high-rated delivery to bring an orphan girl named Alvis Hamilton to the battleship Silvana, they get dragged into a much greater conflict that pits them against the might of the Guild. [Written by MAL Rewrite]
Hamilton, Alvis E.

Main

Head, Lavie

Main

Valca, Claus

Main

Eraclea, Dio

Main

Scheer, Dunya

Supporting

Knowles, Charles

Supporting

Valca, Hamilcar

Supporting

Valca, Justina

Supporting

Walker

Supporting

Wednesday, Ralph

Supporting

Sunny Boy

Supporting

Narrator

Supporting

Messina, Nestor

Supporting

Mad-thane, Holly

Supporting

Mad-thane, David

Supporting

Mad-thane, Lady

Supporting

Lucciola

Supporting

Lightning, Wina

Supporting

Kostabi, Anthony

Supporting

Wisła, Tatiana

Supporting
Because we are making use of some free resources to reduce the main server load, the player can be opened on another domain or showed as a new tab (you have to allow pop-up if you're not using Chrome).