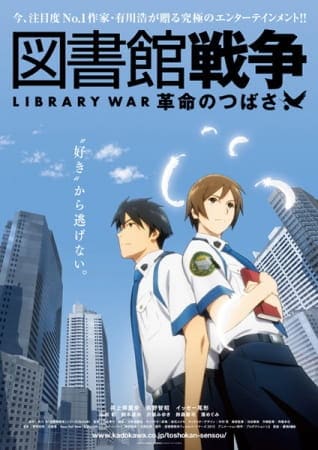 Aired: Jun 16, 2012
Duration: 1 hr. 45 min.
Viewed: 5
Synonyms: Library War the Movie, Gekijouban Toshokan Sensou, Library War: The Wings of Revolution, 図書館戦争 革命のつばさ
Kasahara Iku and Dojo Atsushi receive an emergency recall in the middle of their date as Japan is rocked by a terror attack. Their new duty is a protection detail assigned to Touma Kurato, an author. Meanwhile, the relationship between Librarians and the Media Purity Committee is also worsening.
Doujou, Atsushi

Main

Kasahara, Iku

Main

Genda, Ryuusuke

Supporting

Inamine, Kazuichi

Supporting

Komaki, Mikihisa

Supporting

Nakazawa, Marie

Supporting

Orikuchi, Maki

Supporting

Shibasaki, Asako

Supporting

Tezuka, Hikaru

Supporting

Tezuka, Satoshi

Supporting
Comming soon!!! But still, you're very handsome.
Please comment for requesting this anime.