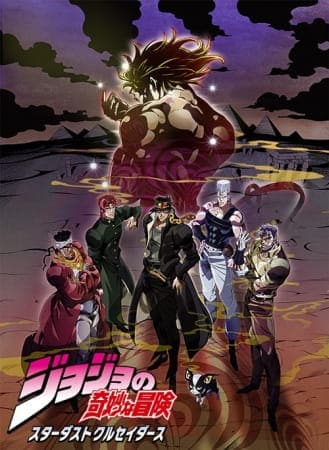 Aired: Jan 10, 2015 to Jun 20, 2015
Duration: 23 min. per ep.
Viewed: 57
Synonyms: JoJo's Bizarre Adventure: Stardust Crusaders - Battle in Egypt, JoJo's Bizarre Adventure Part 3, JoJo's Bizarre Adventure: Stardust Crusaders - Egypt Arc, ジョジョの奇妙な冒険 スターダストクルセイダース
Joutarou Kuujou and his allies have finally made it to Egypt, where the immortal Dio awaits. Upon their arrival, the group gains a new comrade: Iggy, a mutt who wields the Stand "The Fool." It's not all good news however, as standing in their path is a new group of Stand users who serve Dio, each with a Stand representative of an ancient Egyptian god. As their final battle approaches, it is a race against time to break Joutarou's mother free from her curse and end Dio's reign of terror over the Joestar family once and for all. [Written by MAL Rewrite]
Brando, Dio

Main

Iggy

Main

Joestar, Joseph

Main

Kakyouin, Noriaki

Main

Kuujou, Joutarou

Main

Polnareff, Jean-Pierre

Main

Avdol, Mohammed

Main

Kuujou, Holly

Supporting

Roses

Supporting

Malena

Supporting

Mariah

Supporting

N'Doul

Supporting

Narrator

Supporting

Nukesaku

Supporting

Oingo

Supporting

Pet Shop

Supporting

Phillips, Wilson

Supporting

Q, Suzie

Supporting

Khan

Supporting

Jean, Billie

Supporting
Comming soon!!! But still, you're very handsome.
Please comment for requesting this anime.