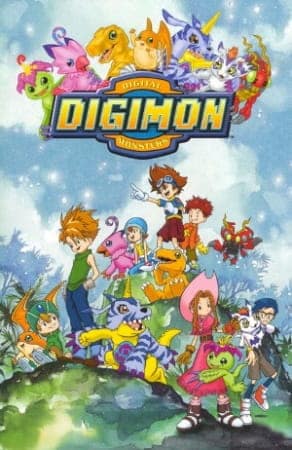 Aired: Mar 7, 1999 to Mar 26, 2000
Duration: 24 min. per ep.
Viewed: 59
Synonyms: Digimon Adventure (2020)
When a group of kids head out for summer camp, they don't expect it to snow in the middle of July. Out of nowhere, the kids receive strange devices which transport them to a very different world to begin their Digimon Adventure! Led by the plucky Taichi Yagami, the seven children must now survive in a realm far from home, filled with monsters and devoid of other humans. Luckily, they're not alone: each child is paired off with a companion digital monster called a Digimon. Together, the children and their new friends must overcome their insecurities, discover their inner strengths, and evolve into stronger fighters - literally. A force of evil is spreading through the Digital World, corrupting all the Digimon. The DigiDestined have arrived and it's up to them to save the Digital World, if they ever want to see their home world again.
Agumon

Main

Izumi, Koushirou

Main

Palmon

Main

Kido, Jou

Main

Ishida, Yamato

Main

Gomamon

Main

Piyomon

Main

Patamon

Main

Tachikawa, Mimi

Main

Tailmon

Main

Takaishi, Takeru

Main

Takenouchi, Sora

Main

Tentomon

Main

Yagami, Taichi

Main

Yagami, Hikari

Main

Gabumon

Main

Tachikawa, Satoe

Supporting

Tachikawa, Keisuke

Supporting

Pinocchimon

Supporting

Piccolomon

Supporting
Because we are making use of some free resources to reduce the main server load, the player can be opened on another domain or showed as a new tab (you have to allow pop-up if you're not using Chrome).