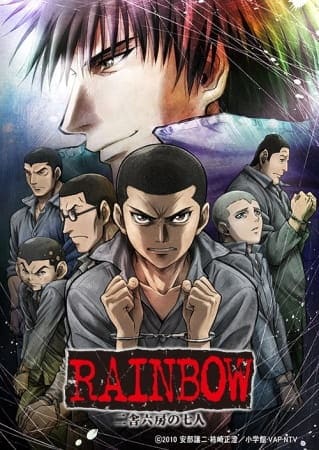 Aired: Apr 7, 2010 to Sep 29, 2010
Duration: 22 min. per ep.
Viewed: 31
Synonyms: Rainbow: Nisha Rokubou no Shichinin
Japan, 1955: Mario Minakami has just arrived at Shounan Special Reform School along with five other teenagers who have been arrested on serious criminal charges. All assigned to the same cell, they meet older inmate Rokurouta Sakuragi—a former boxer—with whom they establish a close bond. Under his guidance, and with the promise that they will meet again on the outside after serving their sentences, the delinquents begin to view their hopeless situation in a better light. Rainbow: Nisha Rokubou no Shichinin follows the seven cellmates as they struggle together against the brutal suffering and humiliation inflicted upon them by Ishihara, a sadistic guard with a grudge on Rokurouta, and Gisuke Sasaki, a doctor who takes pleasure in violating boys. Facing such hellish conditions, the seven inmates must scrape together all the strength they have to survive until their sentences are up; but even if they do, just what kind of lives are waiting for them on the other side? [Written by MAL Rewrite]
Maeda, Noboru

Main

Matsuura, Mansaku

Main

Minakami, Mario

Main

Nomoto, Ryuuji

Main

Sakuragi, Rokurouta

Main

Tooyama, Tadayoshi

Main

Yokosuka, Jou

Main

Aritou

Supporting

Ishihara

Supporting

Koike, Setsuko

Supporting

Kumagai

Supporting

Lilly

Supporting

Narrator

Supporting

Sasaki, Gisuke

Supporting

Yokosuka, Megumi

Supporting

Yoshida, Junko

Supporting
Because we are making use of some free resources to reduce the main server load, the player can be opened on another domain or showed as a new tab (you have to allow pop-up if you're not using Chrome).