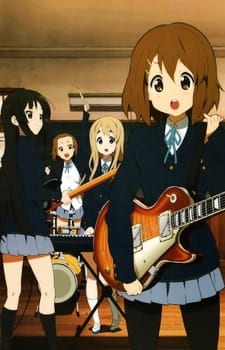 Aired: Jan 19, 2010
Duration: 23 min.
Viewed: 135
Synonyms: K-On!: Live House!
It is almost the end of the year, and Houkago Tea Time has been invited to participate in a live house on New Year's Eve! The iconic band members are Yui Hirasawa, the carefree guitarist who is enthusiastic to play music; Mio Akiyama, the shy bassist who gets embarrassed easily; Tsumugi Kotobuki, the gentle and sweet keyboardist who finds joy in normal activities; Ritsu Tainaka, the extroverted drummer who likes to tease Mio; and Azusa Nakano, the rhythm guitarist who is one year younger than the rest but slightly more mature. Performing in the set gives the girls the rare opportunity to meet various people from different bands, including the one that invited them, Love Crysis. Will Houkago Tea Time be able to delight their audiences successfully? [Written by MAL Rewrite]
Akiyama, Mio

Main

Hirasawa, Yui

Main

Kotobuki, Tsumugi

Main

Nakano, Azusa

Main

Tainaka, Ritsu

Main

Aya

Supporting

Eri

Supporting

Hirasawa, Ui

Supporting

Kawakami, Mrs.

Supporting

Maki

Supporting

Manabe, Nodoka

Supporting

Rui

Supporting

Sayaka

Supporting

Suzuki, Jun

Supporting

Yamanaka, Sawako

Supporting
Because we are making use of some free resources to reduce the main server load, the player can be opened on another domain or showed as a new tab (you have to allow pop-up if you're not using Chrome).