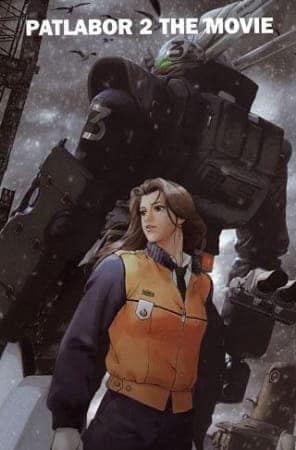 Aired: Aug 7, 1993
Duration: 1 hr. 48 min.
Viewed: 4
Synonyms: Patlabor 2: The Movie
Three years after the Babylon Project conspiracy is resolved, the members of Kiichi Gotou's Patlabor unit have gone their separate ways. Gotou remains with the Patlabor team, accompanied by Shinobu Nagumo, his romantic crush and comrade. Playing into the public's skepticism toward the Japanese Ground Self-Defense Force, a terrorist organization begins to work from within the military to cause destruction and mass civil unrest throughout Japan. Nagumo learns that the mastermind behind the growing terrorist plot is none other than Yukihito Tsuge, her former mentor and lover. Gotou reassembles his former Patlabor team, spearheaded by pilot Noa Izumi. Leading the team into a mission to arrest Tsuge, Nagumo must come to terms with her complicated past relationships in order to save Japan. [Written by MAL Rewrite]
Gotou, Kiichi

Main

Nagumo, Shinobu

Main

Arakawa, Shigeki

Supporting

Izumi, Noa

Supporting

Kaiho

Supporting

Matsui, Takahiro

Supporting

Oota, Isao

Supporting

Sakaki, Seitarou

Supporting

Sakuma

Supporting

Shiba, Shigeo

Supporting

Shinohara, Asuma

Supporting

Shinshi, Mikiyasu

Supporting

Tsuge, Yukihito

Supporting

Yamazaki, Hiromi

Supporting
Because we are making use of some free resources to reduce the main server load, the player can be opened on another domain or showed as a new tab (you have to allow pop-up if you're not using Chrome).