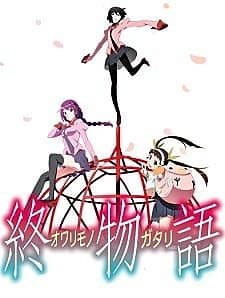 Aired: Aug 12, 2017 to Aug 13, 2017
Duration: 25 min. per ep.
Viewed: 7
Synonyms: Owarimonogatari Second Season Recaps, Owarimonogatari Episode 0.5, Owari ni Mukau Monogatari, Owarimonogatari Episode 4.5, Araragi Koyomi no Monogatari, 終わりに向かう物語; 阿良々木暦ノ物語
Two recaps aired before the first episode of the day at the time Owarimonogatari 2nd Season was airing. Episode 0.5 (aired before Mayoi Hell) - Owari ni Mukau Monogatari (Heading Towards the End of the Story): Araragi's voice actor Hiroshi Kamiya retells events from Koyomi Vamp, Mayoi Maimai, Shinobu Time, Yotsugi Doll, Koyomi Nothing and Koyomi Dead. Episode 4.5 (aired before Ougi Dark) - Araragi Koyomi no Monogatari (Araragi Koyomi's Story): Hanekawa's voice actor Yui Horie looks back at Araragi's past year and what happened to him throughout the series.
Hachikuji, Mayoi

Main

Hanekawa, Tsubasa

Main

Oshino, Ougi

Main

Araragi, Koyomi

Main

Teori, Tadatsuru

Supporting

Shishirui, Seishirou

Supporting

Senjougahara, Hitagi

Supporting

Sengoku, Nadeko

Supporting

Oshino, Meme

Supporting

Oshino, Shinobu

Supporting

Ononoki, Yotsugi

Supporting

Kanbaru, Suruga

Supporting

Kaiki, Deishuu

Supporting

Kagenui, Yozuru

Supporting

Guillotinecutter

Supporting

Gaen, Izuko

Supporting

Dramaturgie

Supporting

Araragi, Karen

Supporting

Araragi, Tsukihi

Supporting
Because we are making use of some free resources to reduce the main server load, the player can be opened on another domain or showed as a new tab (you have to allow pop-up if you're not using Chrome).
Comming soon!!! But still, you're very handsome.
Please comment for requesting this anime.