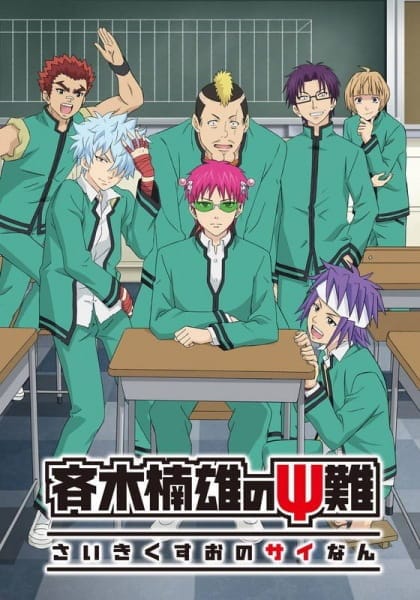 Aired: Jan 17, 2018 to Jun 27, 2018
Duration: 24 min. per ep.
Viewed: 51
Synonyms: The Disastrous Life of Saiki K. 2, Saiki Kusuo no Psi Nan 2, 斉木楠雄のΨ難 2
The disastrous life of the gifted psychic Kusuo Saiki continues, despite his utmost effort to live an ordinary life. Although he has certainly grown accustomed to dealing with his troublesome friends—who are his biggest hurdle to achieving a peaceful life—he still has a long way to go. Also joining the usual oddballs are a few new faces whose shenanigans add to Saiki's misery, making his dreams of a hassle-free life a distant fantasy. [Written by MAL Rewrite]
Kuboyasu, Aren

Main

Nendou, Riki

Main

Saiki, Kusuo

Main

Teruhashi, Kokomi

Main

Kaidou, Shun

Main

Namekawa

Supporting

Scofield, Michael

Supporting

Narrator

Supporting

Murata, Shuuji

Supporting

Saiki, Kuusuke

Supporting

Saiki, Kuniharu

Supporting

Saiki, Kumagorou

Supporting

Saiki, Kumi

Supporting

Saiki, Kurumi

Supporting

Saiko, Metori

Supporting

Saiko, Father

Supporting

Sakata, Gintoki

Supporting

Satou, Hiroshi

Supporting

Sawakita, Kouki

Supporting

Miyabe

Supporting
Comming soon!!! But still, you're very handsome.
Please comment for requesting this anime.