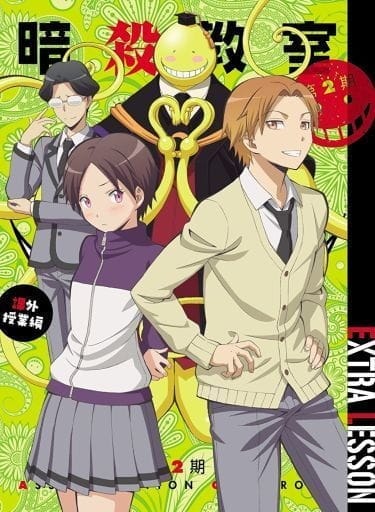 Shorts of Ansatsu Kyoushitsu (TV) 2nd Season which adapt chapters of the manga which are not in the TV series. The adapted chapters are 78 ("Takebayashi no Jikan") and 79 ("Shihaisha no Jikan, Ni Jikanme"), which are published in the ninth manga volume.
Aired: Mar 11, 2016 to May 20, 2016
Synonyms: Ansatsu Kyoushitsu 2nd Season: Kagaijugyou-hen
Koro-sensei

Main

Shiota, Nagisa

Main

Asano, Gakushuu

Supporting

Isogai, Yuuma

Supporting

Kanzaki, Yukiko

Supporting

Karasuma, Tadaomi

Supporting

Kataoka, Megu

Supporting

Kayano, Kaede

Supporting

Maehara, Hiroto

Supporting

Nakamura, Rio

Supporting

Okuda, Manami

Supporting

Ritsu

Supporting

Takebayashi, Koutarou

Supporting

Terasaka, Ryouma

Supporting
Because we are making use of some free resources to reduce the main server load, the player can be opened on another domain or showed as a new tab (you have to allow pop-up if you're not using Chrome).