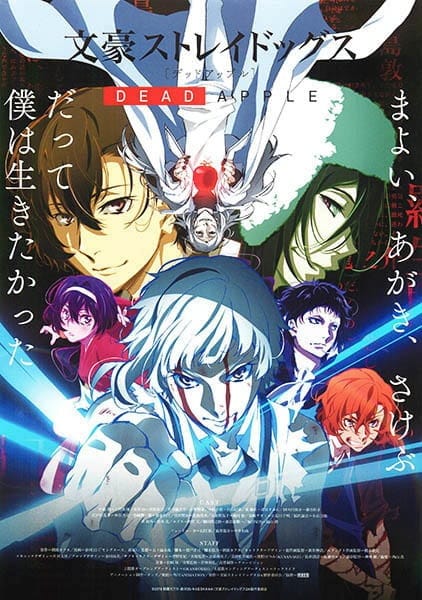 Aired: Mar 3, 2018
Duration: 1 hr. 30 min.
Viewed: 5
Synonyms: 文豪ストレイドッグス DEAD APPLE
A large scale catastrophe is occurring across the planet. Ability users are discovered after the appearance of a mysterious fog, apparently having committed suicide, so the Armed Detective Agency sets out to investigate these mysterious deaths. The case seems to involve an unknown ability user referred to as "Collector," a man who could be the mastermind behind the incident. Trust and courage are put to the test in order to save the city of Yokohama and ability users across the world from the grip of Collector where the Armed Detective Agency forms an unlikely partnership with the dangerous Port Mafia. [Written by MAL Rewrite]
Dazai, Osamu

Main

Nakahara, Chuuya

Main

Nakajima, Atsushi

Main

Akutagawa, Ryuunosuke

Main

Yosano, Akiko

Supporting

Tsujimura, Mizuki

Supporting

Tanizaki, Junichirou

Supporting

Tanizaki, Naomi

Supporting

Shibusawa, Tatsuhiko

Supporting

Sakaguchi, Ango

Supporting

Oda, Sakunosuke

Supporting

Mori, Ougai

Supporting

Miyazawa, Kenji

Supporting

Kunikida, Doppo

Supporting

Izumi, Kyouka

Supporting

Fukuzawa, Yukichi

Supporting

Elise

Supporting

Edogawa, Ranpo

Supporting

Dostoyevsky, Fyodor

Supporting

Christie, Agatha

Supporting
Comming soon!!! But still, you're very handsome.
Please comment for requesting this anime.