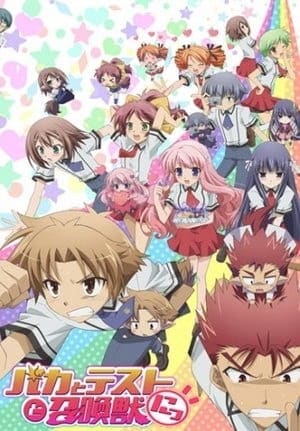 Aired: Jul 8, 2011 to Sep 30, 2011
Duration: 24 min. per ep.
Viewed: 27
Synonyms: Baka to Test to Shoukanjuu Ni!
Goofball Yoshii's still leading his crew in Avatar battles against the brainier students in school, but the girls in Class F have grown way less concerned with improving their status on campus. Instead of moving up in the world, the girls are more interested in getting closer to the guys in the gang! Of course, some of the boys are totally oblivious to the romantic intentions of their female friends. That's to be expected in a group of dim-wits and misfits. Nonetheless, the femmes of Class F aren't giving up anytime soon. Because when love is on the line, even the biggest underachievers can find motivation – even if they can't spell it! (Source: Rightstuf)
Kinoshita, Hideyoshi

Main

Kirishima, Shouko

Main

Sakamoto, Yuuji

Main

Shimada, Minami

Main

Tsuchiya, Kouta

Main

Yoshii, Akihisa

Main

Himeji, Mizuki

Main

Natsukawa, Shunpei

Supporting

Yoshii, Akira

Supporting

Nemoto, Kyouji

Supporting

Nishimura, Souichi

Supporting

Ooshima, Takeshi

Supporting

Sakamoto, Yukino

Supporting

Shimada, Hazuki

Supporting

Shimizu, Miharu

Supporting

Sugawa, Ryou

Supporting

Takahashi, Youko

Supporting

Todo, Kaoru

Supporting

Tsunemura, Yuusaku

Supporting

Nakabayashi, Hiromi

Supporting
Because we are making use of some free resources to reduce the main server load, the player can be opened on another domain or showed as a new tab (you have to allow pop-up if you're not using Chrome).