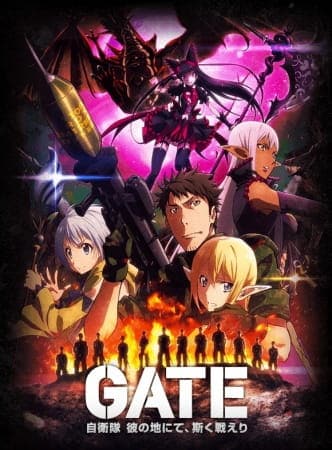 Aired: Jan 9, 2016 to Mar 26, 2016
Duration: 23 min. per ep.
Viewed: 4
Synonyms: GATE, Gate: Thus the JSDF Fought There! Fire Dragon Arc, Gate: Jieitai Kanochi nite, Kaku Tatakaeri - Enryuu-hen, GATE(ゲート)自衛隊 彼の地にて、斯く戦えり 第2クール
Several months have passed since the infamous Ginza Incident, with tensions between the Empire and JSDF escalating in the vast and mysterious "Special Region" over peace negotiations. The greed and curiosity of the global powers have also begun to grow, as reports about the technological limitations of the magical realm's archaic civilizations come to light. Meanwhile, Lieutenant Youji Itami and his merry band of female admirers struggle to navigate the complex political intrigue that plagues the Empire's court. Despite her best efforts, Princess Piña Co Lada faces difficulties attempting to convince her father that the JSDF has no intention of conquering their kingdom. Pressured from both sides of the Gate, Itami must consider even more drastic measures to fulfill his mission. [Written by MAL Rewrite]
Co Lada, Piña

Main

Itami, Youji

Main

Lalena, Lelei la

Main

Marceau, Tuka Luna

Main

Mercury, Rory

Main

Nishimoto, Shinji

Supporting

Persia

Supporting

Saber

Supporting

Sol Augustus, Molto

Supporting

Sol Caesar, Diabo

Supporting

Sugawara, Kouji

Supporting

Tomita, Akira

Supporting

Tueli, Sherry

Supporting

Tyuule

Supporting

Uno Ror, Hamilton

Supporting

Yanagida, Akira

Supporting

Youga, Tsuyoshi

Supporting

Aoi, Risa

Supporting

Aurea

Supporting

Bartholomew

Supporting
Comming soon!!! But still, you're very handsome.
Please comment for requesting this anime.