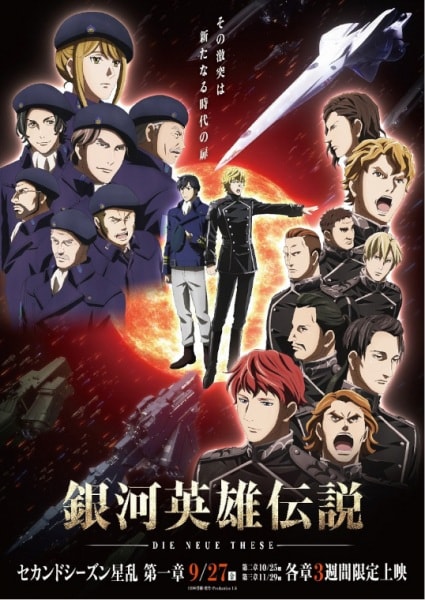 Aired: Sep 27, 2019
Duration: 25 min. per ep.
Viewed: 18
Synonyms: Ginga Eiyuu Densetsu: Die Neue These - Seiran 1
The Free Planets Alliance's invasion of the Galactic Empire has failed after supply mismanagement led to heavy losses. Unwilling to abort the expedition despite being greatly outnumbered, Fleet Admiral Lazar Lobos orders the remaining Alliance fleets to gather in the Amritsar Starzone for a final stand against the incoming counterattack. Strategic genius Fleet Admiral Reinhard von Lohengramm leads the Imperial forces into this decisive battle with an overwhelming advantage. However, his rival, tactical magician Vice Admiral Yang Wen-li of the Alliance, once again makes up for the incompetence of his superiors and stages a narrow escape for himself and his fellow soldiers. Though both Reinhard and Yang are displeased with the outcome—the former for his imperfect victory and the latter for the tremendous casualties—their attention must turn to the bubbling political unrest on both sides of the galaxy. [Written by MAL Rewrite]
von Lohengramm, Reinhard

Main

Yang, Wen-li

Main

Kircheis, Siegfried

Main

von Schönkopf, Walter

Supporting

Patrichev, Fyodor

Supporting

von Reuenthal, Oskar

Supporting

von Oberstein, Paul

Supporting

von Grünewald, Annerose

Supporting

von Goldenbaum IV, Friedrich

Supporting

von Goldenbaum, Erwin Josef II

Supporting

von Braunschweig, Otto

Supporting

von Braunschweig, Elizabeth

Supporting

Van Huu, Nguyen

Supporting

Truniht, Job

Supporting

Stelzer, Hans

Supporting

Sitolet, Sidney

Supporting

Sabine's Mother

Supporting

Rubinsky, Adrian

Supporting

Poplan, Olivier

Supporting

Weitz

Supporting
Because we are making use of some free resources to reduce the main server load, the player can be opened on another domain or showed as a new tab (you have to allow pop-up if you're not using Chrome).