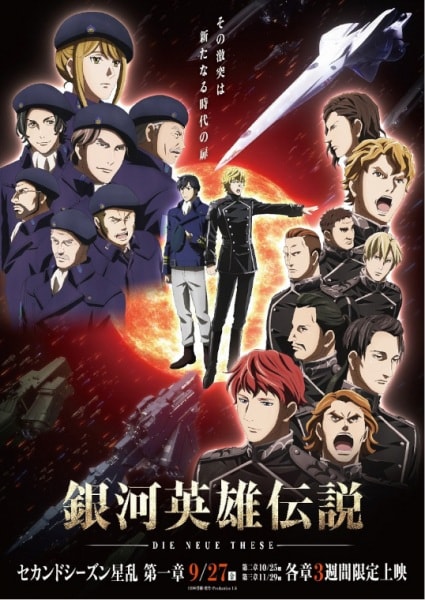 Aired: Sep 27, 2019
Duration: 25 min. per ep.
Viewed: 17
Synonyms: The Legend of the Galactic Heroes: The New Thesis - Stellar War Part 1, Ginga Eiyuu Densetsu: Die Neue These 2nd Season, 銀河英雄伝説 Die Neue These 星乱 第1章
The Free Planets Alliance's invasion of the Galactic Empire has failed after supply mismanagement led to heavy losses. Unwilling to abort the expedition despite being greatly outnumbered, Fleet Admiral Lazar Lobos orders the remaining Alliance fleets to gather in the Amritsar Starzone for a final stand against the incoming counterattack. Strategic genius Fleet Admiral Reinhard von Lohengramm leads the Imperial forces into this decisive battle with an overwhelming advantage. However, his rival, tactical magician Vice Admiral Yang Wen-li of the Alliance, once again makes up for the incompetence of his superiors and stages a narrow escape for himself and his fellow soldiers. Though both Reinhard and Yang are displeased with the outcome—the former for his imperfect victory and the latter for the tremendous casualties—their attention must turn to the bubbling political unrest on both sides of the galaxy. [Written by MAL Rewrite]
Kircheis, Siegfried

Main

von Lohengramm, Reinhard

Main

Yang, Wen-li

Main

Ansbach

Supporting

Armsdorf

Supporting

Attenborough, Dusty

Supporting

Bittenfeld, Fritz Joseph

Supporting

Bronze

Supporting

Bucock, Alexander

Supporting

Cazellnu, Alex

Supporting

Ehrenberg

Supporting

Elizabeth's Mother

Supporting

Erwin's Mother

Supporting

Eugen

Supporting

Ferner, Anton

Supporting

Fischer, Edwin

Supporting

Flegel

Supporting

Fork, Andrew

Supporting

Grand Bishop

Supporting

Greenhill, Dwight

Supporting
Comming soon!!! But still, you're very handsome.
Please comment for requesting this anime.