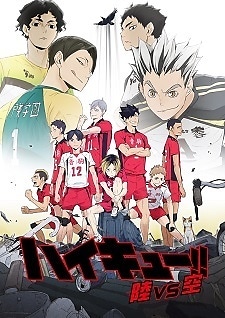 Aired: Jan 22, 2020
Duration: 22 min. per ep.
Viewed: 204
Synonyms: Haikyuu!! Jump Festa 2020 Special, Haikyuu!! OVA, Haikyuu!!: Land vs Sky, Haikyuu!!: The Volleyball Way, Haikyuu!!: Ball no Michi, ハイキュー!! 陸VS空
An intense battle rages on at the Tokyo Qualifiers for the three remaining spots in the national volleyball competition. Nekoma High School, Fukurodani High School, Nohebi Academy, and Itachiyama Academy all passionately strive to participate in the tournament. Despite various issues on the court, Nekoma especially wishes to prove they are worthy of moving on to the national level. As the teams aim to secure their place by overcoming both their opponents and their own weaknesses, the Tokyo Qualifiers determine which teams will reign victorious and join the national competition. [Written by MAL Rewrite]
Kozume, Kenma

Main

Kuroo, Tetsurou

Main

Haiba, Lev

Main

Yamamoto, Taketora

Supporting

Yamamoto, Akane

Supporting

Yamaka, Mika

Supporting

Yaku, Morisuke

Supporting

Washio, Tatsuki

Supporting

Takachiho, Yoshiya

Supporting

Shirofuku, Yukie

Supporting

Shibayama, Yuuki

Supporting

Numai, Kazuma

Supporting

Nekomata, Yasufumi

Supporting

Naoi, Manabu

Supporting

Kuguri, Naoyasu

Supporting

Konoha, Akinori

Supporting

Komi, Haruki

Supporting

Kai, Nobuyuki

Supporting

Inuoka, Sou

Supporting

Hiroo, Kouji

Supporting
Comming soon!!! But still, you're very handsome.
Please comment for requesting this anime.