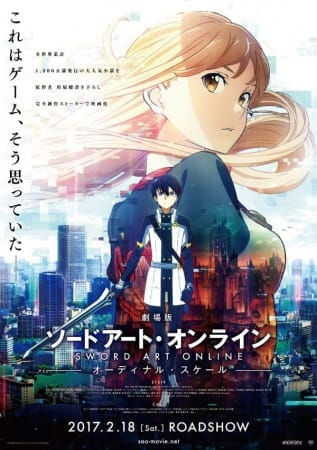 Aired: Feb 18, 2017
Duration: 1 hr. 59 min.
Viewed: 49
Synonyms: Sword Art Online the Movie -Ordinal Scale-, Gekijouban Sword Art Online, 劇場版 ソードアート・オンライン -オーディナル・スケール-
In 2026, four years after the infamous Sword Art Online incident, a revolutionary new form of technology has emerged: the Augma, a device that utilizes an Augmented Reality system. Unlike the Virtual Reality of the NerveGear and the Amusphere, it is perfectly safe and allows players to use it while they are conscious, creating an instant hit on the market. The most popular application for the Augma is the game Ordinal Scale, which immerses players in a fantasy role-playing game with player rankings and rewards. Following the new craze, Kirito's friends dive into the game, and despite his reservations about the system, Kirito eventually joins them. While at first it appears to be just fun and games, they soon find out that the game is not all that it seems... [Written by MAL Rewrite]
Kirigaya, Kazuto

Main

Nochizawa, Eiji

Main

Yuna

Main

Yuuki, Asuna

Main

Alicia Rue

Supporting

An, Si-eun

Supporting

Asada, Shino

Supporting

Ayano, Keiko

Supporting

Dyne

Supporting

Eugene

Supporting

Kayaba, Akihiko

Supporting

Kikuoka, Seijirou

Supporting

Kirigaya, Suguha

Supporting

Kurahashi

Supporting

Mills, Andrew Gilbert

Supporting

Nagata, Shinichi

Supporting

Pina

Supporting

Sakuya

Supporting

Shigemura, Tetsuhiro

Supporting

Shinozaki, Rika

Supporting
Comming soon!!! But still, you're very handsome.
Please comment for requesting this anime.