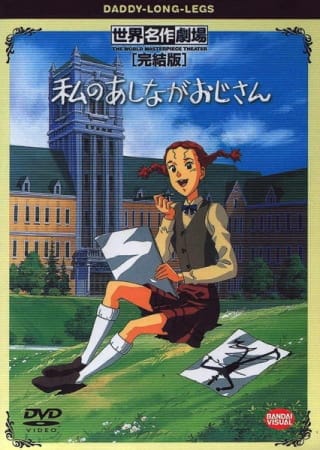 Aired: Jan 4, 1990 to Dec 23, 1990
Duration: 23 min. per ep.
Viewed: 9
Synonyms: My Daddy Long Legs, Sekai Meisaku Gekijou, Daddy-Long-Legs, 私のあしながおじさん
Daddy Long Legs is based on the novel of the same name by Jean Webster. It chronicles the adventures of Judy Abbott, an orphan in New York. During a meeting for the superintendent, with other important and rich people in attendance, a scholarship is offered to Judy by a mysterious benefactor. Catching only a glimpse of his tall shadow as he leaves, Judy calls him "Daddy Long Legs" and writes him letters every month as per his request. While studying at the Lincoln Memorial school, she makes many friends and learns about a world she never knew about before. (Source: ANN)
Abbott, Judy

Main

McBride, Sally

Main

Rutledge Pendleton, Julia

Main

Bob

Supporting

Carry

Supporting

Catherine

Supporting

Dorobou

Supporting

Emily

Supporting

Fenton, George

Supporting

Fenton, Leonora

Supporting

Lippett, Catherine

Supporting

McBride, Jimmy

Supporting

Pendelton, Jervis

Supporting

Sadi

Supporting

Semple, George

Supporting

Semple, Eliza

Supporting

Sloan, Joanna

Supporting

Tommy

Supporting
Comming soon!!! But still, you're very handsome.
Please comment for requesting this anime.