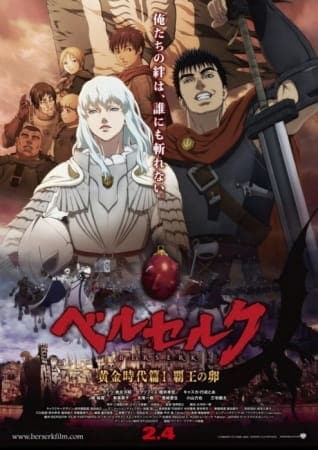 Aired: Feb 4, 2012
Duration: 1 hr. 16 min.
Viewed: 31
Synonyms: Berserk: Golden Age Arc I - The Egg of the King
In the Kingdom of Midland, a mercenary named Guts wanders the land, preferring a life of conflict over a life of peace. Despite the odds never being in his favor, he is an unstoppable force that overcomes every opponent, wielding a massive sword larger than himself. One day, Griffith, the mysterious leader of the mercenary group Band of the Hawk, witnesses the warrior's battle prowess and invites the wandering swordsman to join his squadron. Rejecting the offer, Guts challenges Griffith to a duel—and, much to the former's surprise, is subsequently defeated and forced to join. Now, Guts must fight alongside Griffith and his crew to help Midland defeat the Empire of Chuder. However, Griffith seems to harbor ulterior motives, desiring something much larger than just settling the war... [Written by MAL Rewrite]
Because we are making use of some free resources to reduce the main server load, the player can be opened on another domain or showed as a new tab (you have to allow pop-up if you're not using Chrome).