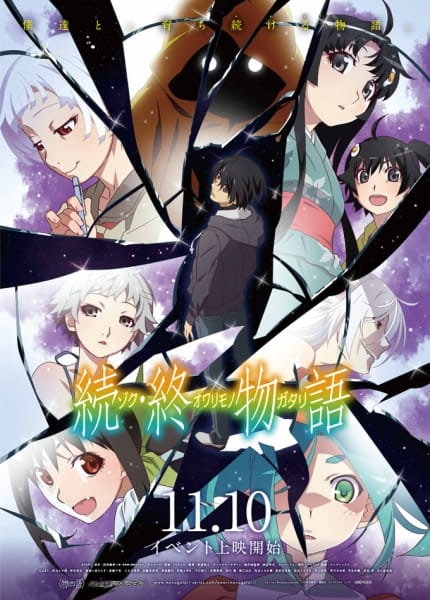 Aired: Nov 10, 2018
Duration: 2 hr. 28 min.
Viewed: 627
Synonyms: Zoku Owarimonogatari (Movie)
Graduation day is finally here, marking the end of Koyomi Araragi's eccentric high school life full of peculiar relationships with otherworldly beings. However, Araragi is unexpectedly absorbed into his own bathroom mirror and trapped inside a bizarre world where everything he knows is completely reversed—the haughty Karen Araragi is shorter than usual, poker-faced Yotsugi Ononoki is brimming with emotion, and cute ghost girl Mayoi Hachikuji is a grown woman! But not everything is as it seems. Zoku Owarimonogatari details the story of Araragi's endeavors in this new world as he struggles to return to his home and understand the nature of this bizarre dimension. [Written by MAL Rewrite]
Araragi, Koyomi

Main

Araragi, Karen

Supporting

Araragi, Tsukihi

Supporting

Hachikuji, Mayoi

Supporting

Hanekawa, Tsubasa

Supporting

Kanbaru, Tooe

Supporting

Kanbaru, Suruga

Supporting

Oikura, Sodachi

Supporting

Ononoki, Yotsugi

Supporting

Oshino, Ougi

Supporting

Oshino, Shinobu

Supporting

Sengoku, Nadeko

Supporting

Senjougahara, Hitagi

Supporting
Because we are making use of some free resources to reduce the main server load, the player can be opened on another domain or showed as a new tab (you have to allow pop-up if you're not using Chrome).