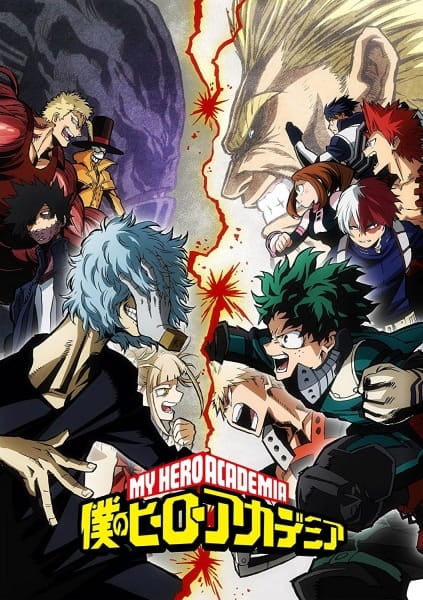 Aired: Apr 7, 2018 to Sep 29, 2018
Duration: 23 min. per ep.
Viewed: 184
Synonyms: Boku no Hero Academia 3rd Season
As summer arrives for the students at UA Academy, each of these superheroes-in-training puts in their best efforts to become renowned heroes. They head off to a forest training camp run by UA's pro heroes, where the students face one another in battle and go through dangerous tests, improving their abilities and pushing past their limits. However, their school trip is suddenly turned upside down when the League of Villains arrives, invading the camp with a mission to capture one of the students. Boku no Hero Academia 3rd Season follows Izuku "Deku" Midoriya, an ambitious student training to achieve his dream of becoming a hero similar to his role model—All Might. Being one of the students caught up amidst the chaos of the villain attack, Deku must take a stand with his classmates and fight for their survival. [Written by MAL Rewrite]
Bakugou, Katsuki

Main

Midoriya, Izuku

Main

All Might

Main

Shishikura, Seiji

Supporting

Miyagi, Daikaku

Supporting

Shishida, Juurouta

Supporting

Shiretoko, Tomoko

Supporting

Shiozaki, Ibara

Supporting

Shinsou, Hitoshi

Supporting

Shindou, You

Supporting

Shimura, Nana

Supporting

Shigaraki, Tomura

Supporting

Shield, Melissa

Supporting

Shield, David

Supporting

Sero, Hanta

Supporting

Satou, Rikidou

Supporting

Muscular

Supporting

Moura, Nagamasa

Supporting

Moonfish

Supporting

Mustard

Supporting
Because we are making use of some free resources to reduce the main server load, the player can be opened on another domain or showed as a new tab (you have to allow pop-up if you're not using Chrome).