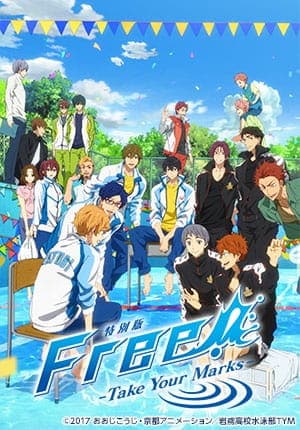 Aired: Oct 28, 2017
Duration: 1 hr. 48 min.
Viewed: 63
Synonyms: Free!: Take Your Marks
Taking place between the events of Free!: Eternal Summer and Free!: Dive to the Future, Free!: Take Your Marks plays out the graduated seniors' last summer through four different stories before they set sail for the future. Unmei no Choice! (Destined Choice!) follows Haruka Nanase and Makoto Tachibana searching for a new apartment for Haruka as he settles into Tokyo. Hitou no Cooling Down! (Cooling Down at the Secret Hot Spring!) sees Aiichiro Nitori choose a graduation gift for Rin Matsuoka and Sousuke Yamazaki, while Momotaro Mikoshiba wins tickets to the Anago Hot Springs. Hoping for a trip together, Aiichiro and Momotaro invite Rin and Sousuke. Kessoku no Batafurai! (United Butterfly!) shows Rei Ryugazaki, Nagisa Hazuki, and Gou Matsuoka creating a recruitment video to attract new club members for the next school year. Tabidachi no Etanaru Buru! (Departing Eternal Blue!) looks into the Iwatobi and Samezuka swim teams' plans for Rin's surprise going-away party, as he will be departing for Australia soon. [Written by MAL Rewrite]
Matsuoka, Rin

Main

Mikoshiba, Momotarou

Main

Nanase, Haruka

Main

Nitori, Aiichirou

Main

Ryuugazaki, Rei

Main

Tachibana, Makoto

Main

Yamazaki, Sousuke

Main

Hazuki, Nagisa

Main

Sasabe, Gorou

Supporting

Veronica

Supporting

Serizawa, Nao

Supporting

Shigino, Kisumi

Supporting

Shigino, Hayato

Supporting

Shigino, Katsumi

Supporting

Shiina, Asahi

Supporting

Toono, Hiyori

Supporting

Uozumi, Takuya

Supporting

Usami, Aoba

Supporting

Minami, Kazuki

Supporting

Mikoshiba, Seijuurou

Supporting
Because we are making use of some free resources to reduce the main server load, the player can be opened on another domain or showed as a new tab (you have to allow pop-up if you're not using Chrome).