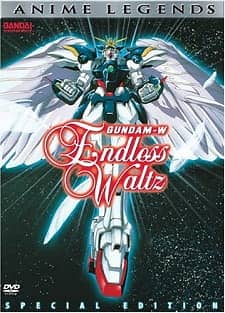 Aired: Jan 25, 1997 to Jul 25, 1997
Duration: 30 min. per ep.
Viewed: 128
Synonyms: Mobile Suit Gundam Wing: Endless Waltz
In the year After Colony 196, one year after the conclusion of the intergalactic civil war, a state of stasis prevails over the Earth and its colonies. Seeing no further use for their Gundam mobile suits, war heroes Duo Maxwell, Heero Yuy, Trowa Barton, and Quatre Raberba Winner decide to destroy these weapons by launching them into the sun's surface. Before the Gundam reach their destination, the universal peace is shattered by the emergence of Mariemaia Khushrenada—the only child of the former tyrannical aristocrat Treize. Mariemaia abducts diplomat Relena Peacecraft and announces plans to launch "Operation Meteor," with the intention of posthumously fulfilling Treize's world domination plot. With the help of former enemy Zechs Marquise and his mobile suit Tallgeese, the heroic pilots must reacquire their mobile suits to wage one final battle against the Khushrenada dynasty, including fighting against their former ally Wufei Chang, now aligning himself with Mariemaia's ambitions. [Written by MAL Rewrite]
Chang, Wufei

Main

Maxwell, Duo

Main

Peacecraft, Relena

Main

Winner, Quatre Raberba

Main

Yuy, Heero

Main

Barton, Trowa

Main

Une, Lady

Supporting

Schweiker, Hilde

Supporting

Professor G

Supporting

Po, Sally

Supporting

Noin, Lucrezia

Supporting

Narrator

Supporting

Master O

Supporting

Marquise, Zechs

Supporting

Kurama, Rashid

Supporting

Khushrenada, Mariemaia

Supporting

Instructor H

Supporting

Howard

Supporting

Girl

Supporting

Doctor J

Supporting
Because we are making use of some free resources to reduce the main server load, the player can be opened on another domain or showed as a new tab (you have to allow pop-up if you're not using Chrome).