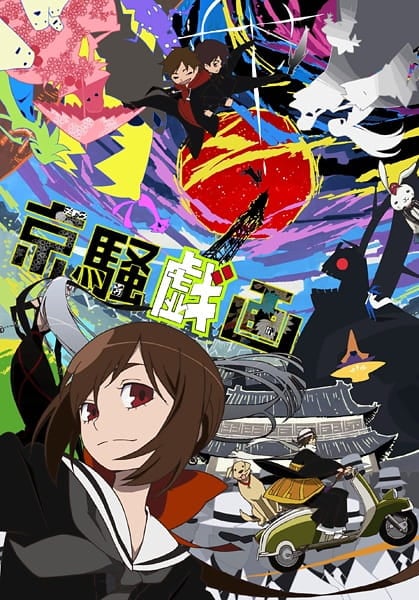 Aired: Oct 10, 2013 to Dec 19, 2013
Duration: 25 min. per ep.
Viewed: 37
Synonyms: Kyousogiga ONA
Long ago, there was a monk named Myoue who could bring anything he drew to life. He quietly lived with his wife Koto—a black rabbit in human form—and their three children: Yakushimaru, Kurama, and Yase. One day, the high priest of the land concluded that Myoue's drawings caused too many problems for the locals and ordered him to find a solution. In response, the family secretly fled to an alternate world of Myoue's own creation—the Looking Glass City. Everything was peaceful until Myoue and Koto suddenly vanished. Their three children are left to take care of the city, and Yakushimaru inherits Myoue's name and duties. Stranded in this alternate world, their problems only get worse when a young girl—also named Koto—crashes down from the sky and declares that she is also looking for the older Myoue and Koto. Armed with a giant hammer and two rowdy familiars, Koto just might be the key to releasing everyone from the eternal paper city. [Written by MAL Rewrite]
Because we are making use of some free resources to reduce the main server load, the player can be opened on another domain or showed as a new tab (you have to allow pop-up if you're not using Chrome).