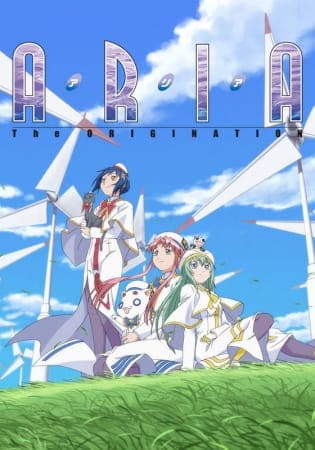 Aired: Jan 8, 2008 to Apr 1, 2008
Duration: 24 min. per ep.
Viewed: 190
Synonyms: Aria the Origination
In the 24th century on the planet Aqua, three girls—Akari Mizunashi, Alice Carroll, and Aika S. Granzchesta—continue to work hard toward achieving their goal of becoming Prima Undines: professional tour guide gondoliers. Luckily, the girls have the guidance of the three best Prima Undines in Neo-Venezia—Alicia Florence, Athena Glory, and Akira E. Ferrari—who are known as the "Water Fairies" in honor of their skill. With their help, the young apprentices train hard and work to overcome any situations that they find themselves in. Aria The Origination follows the hardships and daily lives of these three young girls, who are doing their best to improve as tour gondoliers in Neo-Venezia, a terraformed replica of Venice. [Written by MAL Rewrite]
Ferrari, Akira E.

Main

Florence, Alicia

Main

Glory, Athena

Main

Granzchesta, Aika S.

Main

Mizunashi, Akari

Main

Pokoteng, Aria

Main

Carroll, Alice

Main

Yumeno, Anzu

Supporting

Pitt, Albert

Supporting

Monteverdi, Atora

Supporting

Maa

Supporting

Jasmine, Ayumi

Supporting

Izumo, Akatsuki

Supporting

Izumo, Arata

Supporting

Granzchesta, Hime

Supporting

Ayanokouji the 51st, Udo

Supporting

Anno, Namihei

Supporting

Anna

Supporting

Ametsuchi, Akino

Supporting

Amaranta

Supporting
Because we are making use of some free resources to reduce the main server load, the player can be opened on another domain or showed as a new tab (you have to allow pop-up if you're not using Chrome).