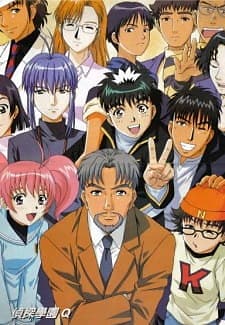 Aired: Apr 15, 2003 to Mar 20, 2004
Duration: 25 min. per ep.
Viewed: 13
Synonyms: Tantei Gakuen Q
Kyuu is your average boy with a knack for logic and reasoning. Desiring to become a detective, he finds out about the existence of the Dan Detective School (DDS); a famed school where students are allowed to bear arms. Together with Megu, a girl with photographic memory, the martial arts master Kinta, the genius programmer Kazuma and the mysterious Ryuu, Kyuu tackles many well planned out crimes, always seeking the truth.
Minami, Megumi

Main

Narusawa, Kazuma

Main

Renjo, Kyuu

Main

Tooyama, Kintarou

Main

Amakusa, Ryuu

Main

Orita, Shuuzou

Supporting

Minami, Akane

Supporting

Oowada, Susumu

Supporting

Ootori, Mayumi

Supporting

Ootori, Shizuko

Supporting

Ootawara, Detective

Supporting

Ootaguro, Tamotsu

Supporting

Oomuro, Ryousuke

Supporting

Ooi, Eijirou

Supporting

Oobayashi, Kazuki

Supporting

Odajima, Detective

Supporting

Obana, Toshiyuki

Supporting

Nanami, Koutarou

Supporting

Mine, Kazushi

Supporting

Miss Kaori

Supporting
Because we are making use of some free resources to reduce the main server load, the player can be opened on another domain or showed as a new tab (you have to allow pop-up if you're not using Chrome).