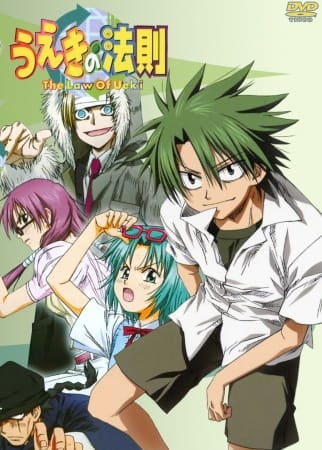 Aired: Apr 4, 2005 to Mar 27, 2006
Duration: 23 min. per ep.
Viewed: 33
Synonyms: The Law of Ueki, うえきの法則
Kousuke Ueki, a student of the Hinokuni Junior High School, is picked by a Celestial King Candidate, Koba-sen, to participate in a competition where people battle out to become the Celestial King and only the strongest will prevail. Embodied with the ability to turn garbage into trees, Kousuke will be joining in the battle against other junior high school students in this selection. This sets the premise for the earth-friendly battle where the students will pit their powers against the rest, with a reward of the Blank Talent giving motive for students to win. (Source: ANN, edited)
Mori, Ai

Main

Sano, Seiichirou

Main

Soya, Hideyoshi

Main

Tenko

Main

Ueki, Kousuke

Main

Jerrard, Rinko

Main

Taira, Maruo

Supporting

Margareth

Supporting

Ueki, Gengoro

Supporting

Ueki, Haruko

Supporting

Ueki, Shoko

Supporting

Oniyama, Monjirou

Supporting

Ogerio, Caption

Supporting

Nico

Supporting

Nero

Supporting

Munin

Supporting

Memory

Supporting

Matthew

Supporting

Mario

Supporting

Zack

Supporting
Comming soon!!! But still, you're very handsome.
Please comment for requesting this anime.