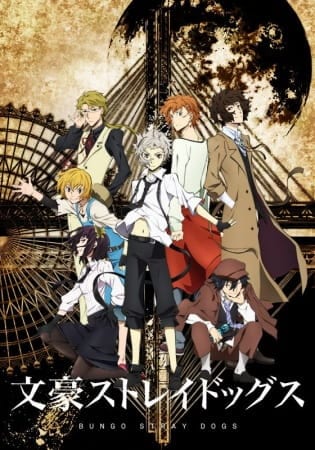 Aired: Apr 7, 2016 to Jun 23, 2016
Duration: 23 min. per ep.
Viewed: 60
Synonyms: Bungo Stray Dogs, Literary Stray Dogs, 文豪ストレイドッグス
For weeks, Atsushi Nakajima's orphanage has been plagued by a mystical tiger that only he seems to be aware of. Suspected to be behind the strange incidents, the 18-year-old is abruptly kicked out of the orphanage and left hungry, homeless, and wandering through the city. While starving on a riverbank, Atsushi saves a rather eccentric man named Osamu Dazai from drowning. Whimsical suicide enthusiast and supernatural detective, Dazai has been investigating the same tiger that has been terrorizing the boy. Together with Dazai's partner Doppo Kunikida, they solve the mystery, but its resolution leaves Atsushi in a tight spot. As various odd events take place, Atsushi is coerced into joining their firm of supernatural investigators, taking on unusual cases the police cannot handle, alongside his numerous enigmatic co-workers. [Written by MAL Rewrite]
Nakajima, Atsushi

Main

Dazai, Osamu

Main

Yosano, Akiko

Supporting

Yamagiwa

Supporting

Tanizaki, Naomi

Supporting

Tanizaki, Junichirou

Supporting

Taguchi, Rokuzou

Supporting

Tachihara, Michizou

Supporting

Sugimoto

Supporting

Sasaki, Nobuko

Supporting

Nakahara, Chuuya

Supporting

Mori, Ougai

Supporting

Montgomery, Lucy Maud

Supporting

Miyazawa, Kenji

Supporting

Minoura

Supporting

Kunikida, Doppo

Supporting

Kajii, Motojirou

Supporting

James L

Supporting

Izumi, Kyouka

Supporting

Hirotsu, Ryuurou

Supporting
Comming soon!!! But still, you're very handsome.
Please comment for requesting this anime.