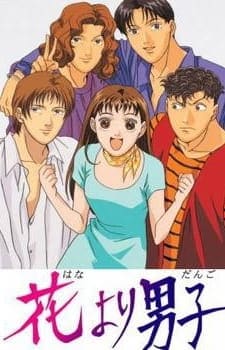 Aired: Sep 8, 1996 to Aug 31, 1997
Duration: 25 min. per ep.
Viewed: 12
Synonyms: Hana Yori Dango, HYD, 花より男子
Makino Tsukushi, a girl who comes from a poor family, just wants to get through her two last years at Eitoku Gakuen quietly. But once she makes herself known by standing up for her friend to the F4, the four most popular, powerful, and rich boys at the school, she gets the red card: F4's way of a "Declaration of War." But when she doesn't let herself be beaten by them and is starting to fall for one of the F4, Hanazawa Rui, she starts to see that there is more than meets the eye... (Source: ANN)
Domyouji, Tsukasa

Main

Hanazawa, Rui

Main

Makino, Tsukushi

Main

Aoike, Kazuya

Supporting

Domyouji, Tsubaki

Supporting

Domyouji, Kaede

Supporting

Matsuoka, Yuuki

Supporting

Mimasaka, Akira

Supporting

Nishikado, Soujirou

Supporting

Okawahara, Shigeru

Supporting

Oribe, Junpei

Supporting

Sanjou, Sakurako

Supporting

Thomas

Supporting

Toudou, Shizuka

Supporting
Comming soon!!! But still, you're very handsome.
Please comment for requesting this anime.