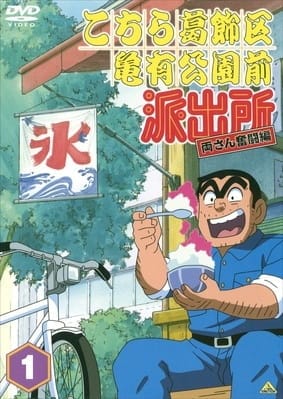 Aired: Jun 16, 1996 to Dec 19, 2004
Duration: 25 min. per ep.
Viewed: 9
Synonyms: Kochikame, This is the Police Station in Front of Kameari Park in Katsushika Ward, Kochira Katsushikaku Kameari Kouenmae Hashutsujo (1996), こちら葛飾区亀有公園前派出所 (1996)
Ryoutsu, being an underpaid policeman, is always coming up with underhanded schemes in order to make a quick buck. But in the end, his plans (which are ridiculous to begin with) always go wrong and land him in big trouble with the chief.
Akimoto, Reiko Katherine

Main

Nakagawa, Keiichi

Main

Ryoutsu, Kankichi

Main

Asato, Ai

Supporting

Giboshi, Matoi

Supporting

Higurashi, Neruo

Supporting

Honda, Hayato

Supporting

Ohara, Daijirou

Supporting

Ono, Komachi

Supporting

Sakonji, Tatsunosuke

Supporting

Seisho, Naoko

Supporting

Tonda, Gomesu

Supporting

Volvo, Saigo

Supporting
Comming soon!!! But still, you're very handsome.
Please comment for requesting this anime.