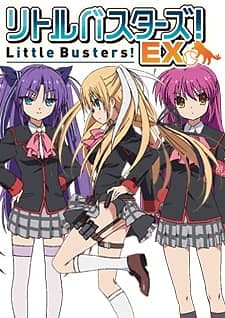 Aired: Jan 29, 2014 to Jul 30, 2014
Duration: 24 min. per ep.
Viewed: 2
Synonyms: Little Busters! EX, Little Busters! Ecstasy, LB!: EX, リトルバスターズ!EX
The main additions in "Little Busters! Ecstasy" are 3 heroine routes involving the characters Futaki Kanata, Sasasegawa Sasami and Tokido Saya. The 3 EX heroines' routes take place of the following: Saya's route - Before the events of Refrain. Sasami's route - After the events of Refrain. Kanata's route - First half of her story is before Refrain and second half is after Refrain. The episodes will be bundled with the BD/DVD releases of Little Busters!: Refrain.
Futaki, Kanata

Main

Naoe, Riki

Main

Sasasegawa, Sasami

Main

Tokido, Saya

Main

A-chan

Supporting

Inohara, Masato

Supporting

Kamikita, Komari

Supporting

Kurugaya, Yuiko

Supporting

Miyazawa, Kengo

Supporting

Natsume, Rin

Supporting

Natsume, Kyousuke

Supporting

Nishizono, Mio

Supporting

Noumi, Kudryavka

Supporting

Saigusa, Haruka

Supporting

Suzuki, Mad

Supporting

Tokido, Father

Supporting
Comming soon!!! But still, you're very handsome.
Please comment for requesting this anime.