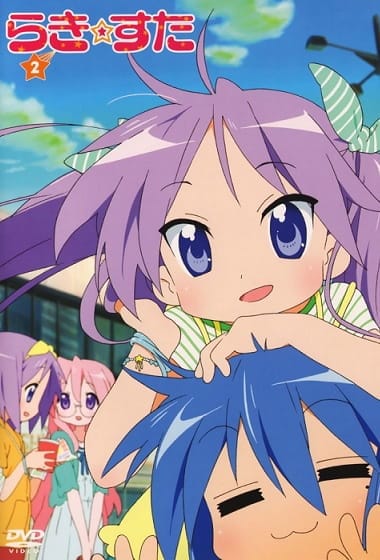 Aired: Apr 8, 2007 to Sep 17, 2007
Duration: 24 min. per ep.
Viewed: 570
Synonyms: Lucky Star
Lucky☆Star follows the daily lives of four cute high school girls—Konata Izumi, the lazy otaku; the Hiiragi twins, Tsukasa and Kagami (sugar and spice, respectively); and the smart and well-mannered Miyuki Takara. As they go about their lives at school and beyond, they develop their eccentric and lively friendship and making humorous observations about the world around them. Be it Japanese tradition, the intricacies of otaku culture, academics, or the correct way of preparing and eating various foods—no subject is safe from their musings. [Written by MAL Rewrite]
Hiiragi, Tsukasa

Main

Izumi, Konata

Main

Takara, Miyuki

Main

Hiiragi, Kagami

Main

Kogami, Akira

Supporting

Tamura, Hiyori

Supporting

Kuroi, Nanako

Supporting

Kusakabe, Misao

Supporting

Martin, Patricia

Supporting

Minegishi, Ayano

Supporting

Miyakawa, Hinata

Supporting

Miyakawa, Hikage

Supporting

Narumi, Yui

Supporting

Ono, Daisuke

Supporting

Sakuraba, Hikaru

Supporting

Shiraishi, Minoru

Supporting

Sugita

Supporting

Takara, Yukari

Supporting

Kobayakawa, Yutaka

Supporting

Izumi, Kanata

Supporting
Because we are making use of some free resources to reduce the main server load, the player can be opened on another domain or showed as a new tab (you have to allow pop-up if you're not using Chrome).