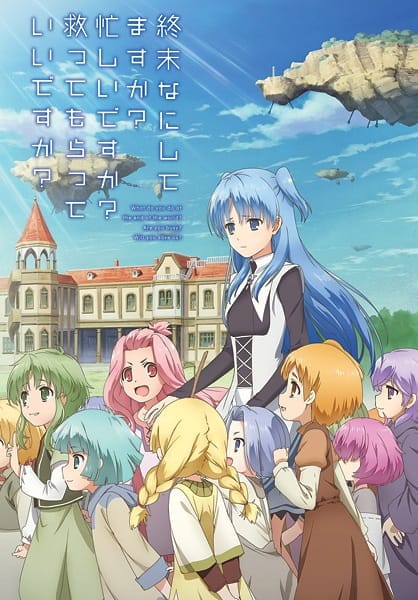 Aired: Apr 11, 2017 to Jun 27, 2017
Duration: 24 min. per ep.
Viewed: 49
Synonyms: Shuumatsu Nani Shitemasu ka? Isogashii desu ka? Sukutte Moratte Ii desu ka?
Putting his life on the line, Willem Kmetsch leaves his loved ones behind and sets out to battle a mysterious monster, and even though he is victorious, he is rendered frozen in ice. It is during his icy slumber that terrifying creatures known as "Beasts" emerge on the Earth's surface and threaten humanity's existence. Willem awakens 500 years later, only to find himself the sole survivor of his race as mankind is wiped out. Together with the other surviving races, Willem takes refuge on the floating islands in the sky, living in fear of the Beasts below. He lives a life of loneliness and only does odd jobs to get by. One day, he is tasked with being a weapon storehouse caretaker. Thinking nothing of it, Willem accepts, but he soon realizes that these weapons are actually a group of young Leprechauns. Though they bear every resemblance to humans, they have no regard for their own lives, identifying themselves as mere weapons of war. Among them is Chtholly Nota Seniorious, who is more than willing to sacrifice herself if it means defeating the Beasts and ensuring peace. Willem becomes something of a father figure for the young Leprechauns, watching over them fondly and supporting them in any way he can. He, who once fought so bravely on the frontlines, can now only hope that the ones being sent to battle return safely from the monsters that destroyed his kind. [Written by MAL Rewrite]
Myse Valgulious, Ithea

Main

Nota Seniorious, Chtholly

Main

Ruq Insania, Nephren

Main

Kmetsch, Willem

Main

Ytri Historia, Rhantolk

Supporting

Siba Igleo, Tiat

Supporting

Rin Purgatrio, Collon

Supporting

Nyx Seniorious, Lakhesh

Supporting

Nygglatho

Supporting

Nox Katena, Pannibal

Supporting

Maxi, Ballony

Supporting

Limeskin

Supporting

Kyklop no Isha

Supporting

Keh Desperatio, Nopht

Supporting

Kandel, Souwong

Supporting

Hrqstn, Elq

Supporting

Graycrack, Grick

Supporting

Ebon Candle

Supporting

Duffner, Almaria

Supporting

Dorio, Phyracorlybia

Supporting
Because we are making use of some free resources to reduce the main server load, the player can be opened on another domain or showed as a new tab (you have to allow pop-up if you're not using Chrome).