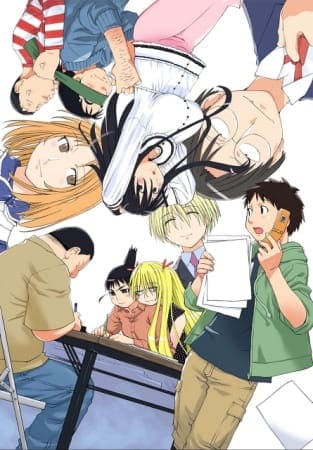 Aired: Oct 10, 2007 to Dec 26, 2007
Duration: 24 min. per ep.
Viewed: 5
Synonyms: Genshiken 2, Gendai Shikaku Bunka Kenkyuukai 2, げんしけん2
The Society for the Study of Modern Visual Culture, otherwise known as Genshiken, is now under the charge of a more confident Sasahara. Things have changed in between semesters, and the otaku club now has a new otaku-hating member named Ogiue. Sasahara's initial goal of starting a doujin circle and selling those fan-made magazines at the next Comic Festival becomes a reality, but reality is a cruel master... who apparently crossplays. Afterward, the club is abuzz with talk about Tanaka and Ohno's relationship, which takes a hesitant step forward. (Source: Media Blasters)
Kasukabe, Saki

Main

Kousaka, Makoto

Main

Madarame, Harunobu

Main

Ogiue, Chika

Main

Oono, Kanako

Main

Sasahara, Kanji

Main

Tanaka, Souichiro

Main

Asada, Naoko

Supporting

Burton, Angela

Supporting

Haraguchi

Supporting

Hopkins, Susanna

Supporting

Kato

Supporting

Kettenkrad, Ritsuko Kübel

Supporting

Kitagawa, Yurie

Supporting

Kuchiki, Manabu

Supporting

Kugayama, Mitsunori

Supporting

Nakajima, Yuuko

Supporting

Sasahara, Keiko

Supporting

Shigeta, Mina

Supporting

Shodai Kaichou

Supporting
Comming soon!!! But still, you're very handsome.
Please comment for requesting this anime.