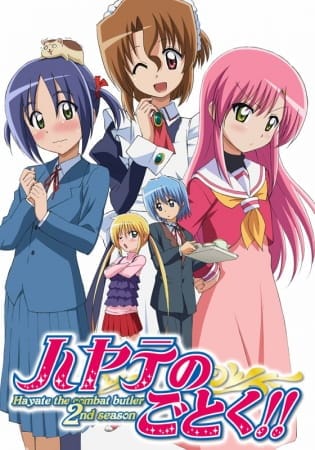 Aired: Apr 4, 2009 to Sep 19, 2009
Duration: 24 min. per ep.
Viewed: 10
Synonyms: Hayate the Combat Butler!!, Hayate the Combat Butler Season 2, ハヤテのごとく!!
Hayate Ayasaki's misfortune continues to hand him the short end of the stick. Now settled into his routine at the Sanzenins' mansion and Hakuou Academy, the butler continues to work as hard as ever in caring for his young mistress Nagi while studying the school's grueling curriculum—all on top of trying his best to survive the multitude of troubles that life relentlessly pushes onto him. The unintentional chick magnet's life is far from quiet, forced to deal not only with Nagi's yet unnoticed infatuation with him, but also the evergrowing string of accidentally seduced girls—most notably, the exceptionally plain Ayumu Nishizawa, a friend of his before he became a butler, and the diligent Hinagiku Katsura, Hakuou's student council president. While one struggles to gain his affection and the other desperately tries to deny her own, both the girls are going to make the boy's life a little more complicated than it already is. [Written by MAL Rewrite]
Katsura, Hinagiku

Main

Maria

Main

Nishizawa, Ayumu

Main

Sanzenin, Nagi

Main

Ayasaki, Hayate

Main

Ten no Koe (Narrator)

Supporting

Maya

Supporting

Shaflnarz, Sonia

Supporting

Tachibana, Wataru

Supporting

Shiranui

Supporting

Tama

Supporting

Saginomiya, Ginka

Supporting

Saginomiya, Isumi

Supporting

Saginomiya, Kokonoe

Supporting

Saeki, Himuro

Supporting

Regiostar, Linn

Supporting

Ookouchi, Taiga

Supporting

Nonohara, Kaede

Supporting

Nishizawa, Kazuki

Supporting

Tennousu, Athena

Supporting
Comming soon!!! But still, you're very handsome.
Please comment for requesting this anime.