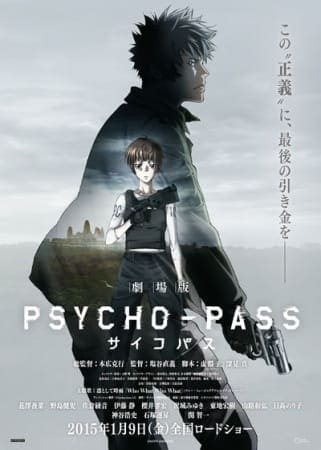 Aired: Jan 9, 2015
Duration: 1 hr. 53 min.
Viewed: 30
Synonyms: Psycho-Pass Movie
Due to the incredible success of the Sibyl System, Japan has begun exporting the technology to other countries with the hope that it will one day be used all around the world. In order to test its effectiveness in a foreign location, the war-torn state of the South East Asian Union (SEAUn) decides to implement the system, hoping to bring peace and stability to the town of Shambala Float and keep the population in check. However, a group of anti-Sibyl terrorists arrive in Japan, and the Ministry of Welfare's Public Safety Bureau discovers significant evidence that the invaders are being aided by Shinya Kougami, a former Enforcer who went rogue. Because of their past relationship, Akane Tsunemori is sent to SEAUn to bring him back, but with their last meeting years in the past, their reunion might not go quite as planned. [Written by MAL Rewrite]
Tsunemori, Akane

Main

Kougami, Shinya

Main

Yeo

Supporting

Wong, Nicholas

Supporting

Sugou, Teppei

Supporting

Shimotsuki, Mika

Supporting

Sem

Supporting

Samrin

Supporting

Saiga, Jouji

Supporting

Rutaganda, Desmond

Supporting

Miyazaki, Tadao

Supporting

Minase, Kaori

Supporting

Makishima, Shougo

Supporting

Ma

Supporting

Kunizuka, Yayoi

Supporting

Komissa-chan

Supporting

Kasei, Joushuu

Supporting

Karanomori, Shion

Supporting

Hinakawa, Shou

Supporting

Hantuchová, Yulia

Supporting
Because we are making use of some free resources to reduce the main server load, the player can be opened on another domain or showed as a new tab (you have to allow pop-up if you're not using Chrome).